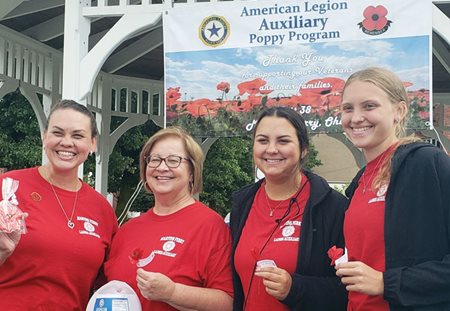 Ohio Unit 38 in Martins Ferry proves you can revive poppy activities in your community. Unit members have been planning for this year's event after a successful 2022 event. Last year, the unit held its first poppy drive in more than 15 years.

"Our desire to do a poppy drive was from our desire to reactivate Auxiliary Unit 38 in support of our veterans and their families," said Jane Klug, unit president. "A poppy drive hasn't been done in over 15-plus years in our city. Some say more like 20 years. Our members can't remember the last time they've seen any organization hold a poppy drive in the city of Martins Ferry. It's one of the first steps we've taken to resuscitate our unit."

Members of Unit 38 include the community in their poppy activities. They distribute poppy coloring books and poppy paper plate-making kits to second grade students in two local schools, totaling more than 145 students. Coloring pages are displayed in the windows of local businesses, and the paper plate poppies are planted by monuments in the city park.

ALA Junior members get involved too, participating in the poppy drive by handing out poppy cookies from a local bakery, along with traditional crepe paper poppies. The Juniors also create a poppy memorial wall at the post home.

Not only did the 2022 poppy drive bring awareness to the significance of the poppy, but it helped membership.

"We attracted new members for all our groups: Legionnaires, Sons, and the ALA," said Klug.

To learn more about the American Legion Auxiliary Poppy Program and prepare for National Poppy Day®, visit www.ALAforVeterans.org.