Collecting, protecting, and financing: What you need to know


It's a familiar sight at the community American Legion Family post home — trinkets large and small hanging on walls, positioned in glass curio cabinets, and sometimes, stuffed in a closet … untouched for years.

When you're older than a century like The American Legion and American Legion Auxiliary, you're bound to have archives and sentimental items placed in every nook and cranny around the house.

But what about all that stuff? What if something in your collection is more than just a ticket from a dance event hosted by the hall in the 1950s? What if that silver dish you thought was a pretty memento was actually an item of value?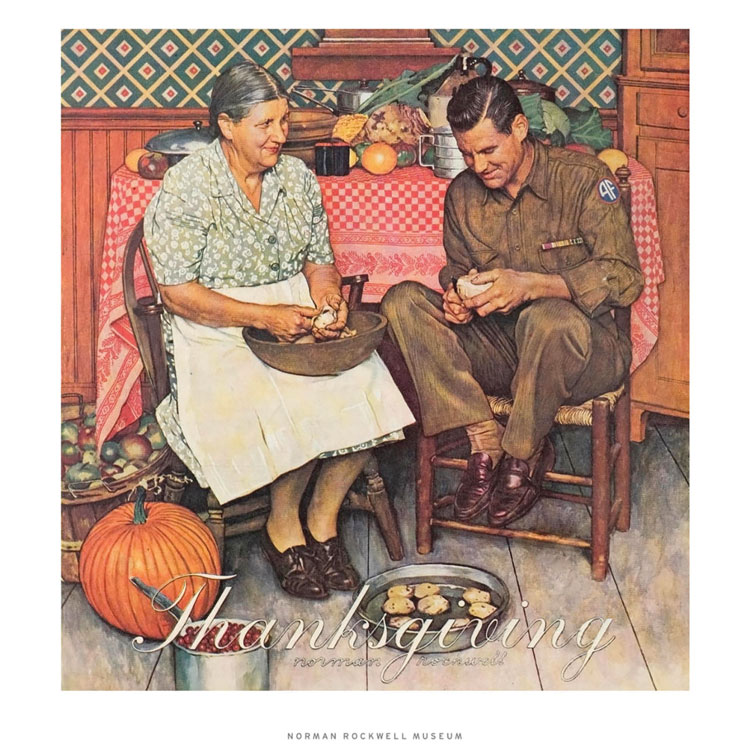 This Norman Rockwell painting, part of The American Legion Post 193 Family in Winchendon, Mass., sold at auction in late 2021 for $3.6 million (photo/Norman Rockwell Museum).
Last year, a painting belonging to The American Legion Post 193 Family in Winchendon, Mass., became more than just a meaningfully appealing art piece hanging on the wall.
"Our American Legion post was building a brand new building in 1959," said Coral May Grout, member of Unit 193. "Dad was on the committee and was asked to obtain donations from local Winchendon notables. He visited Rev. Wilfred Tisdell, pastor of the Catholic Church, at his lovely home. Father Tisdell invited Dad to go upstairs to the art gallery where about 25 original paintings were housed. My dad returned downstairs a while later, and Rev. Tisdell asked him if he had selected a painting. Dad responded, 'Yes.' So, the two of them went upstairs and Dad pointed out his choice. Rev. Tisdell said he had selected the most expensive painting in the collection, but it was perfect for the post. He also made a financial donation to assist in construction of the building."
The painting was a Norman Rockwell original titled,
Home for Thanksgiving
, a 35-by-33 inch oil on canvas and the Nov. 24, 1945, cover of
The Saturday Evening Post
. Commissioned for the magazine, the painting tells the tale of the first Thanksgiving after the Allies' victory. In November 2021, it was sold at auction for $3.6 million.
Assess your archives
When was the last time a member of your post home went through everything and thoroughly studied each item? Has it been years? Or has it ever been done? Send a blast in your next member-wide newsletter asking for help from the trusted history buffs. You might be surprised at how much people really want to be involved in tasks like archive collection and digitizing files.
Dig through boxes, trunks, and cabinets … and then some. Even the most organized places can contain objects that lost their way at one point or another. Suit up with dust masks and head to the attic — you might come across a box that was once considered junk from members of yore and stored out of the way.
Be sure to log every item that's part of your post home history, even the small things. Just because it's tiny, it doesn't mean it has no value or significance. If you have details about the item, log that too.
Store safely, then learn value
In the case of Post 193's Rockwell painting, Grout said that in 1982, a man attending a party at the post offered to purchase the painting for $500. The commander at the time stopped and thought,
If this guy wants to pay $500, how much is it really worth?
The post then contacted the Rockwell Museum in Stockbridge, Mass., to give a ballpark figure on its value. Museum staff were shocked that the painting had hung all those years and was never stolen or damaged. The museum then offered to give the post a replica, and the original was taken to Western Massachusetts to be cared for under proper conditions.
The easiest way you can protect items in your post home: Look for harmful factors like sunlight, uncontrolled temperature, and cigarette smoke — all of these can severely impair the value of your historical property. The next step is to get it appraised. A quick Google search will pull up appraisers in your local area. These trained experts will carefully examine your materials and offer a value amount, as well as ways to properly insure them.
Archiving takes time
Rome wasn't built in a day, and neither will assessing your archives. It takes time to sift through records, and you don't have to make decisions right away about what to do with valuable items. Post 193's Rockwell painting made several tours over the years, including the Guggenheim in New York, Los Angeles, Atlanta, and Paris. The art was in Paris when the pandemic hit and was kept there until it was safe to come home.
"It was thanks to my dad that this even happened," Grout said, "and Rev. Tisdell was a very special man whom I admired so very much. With the pandemic, much revenue didn't come in from weddings, post funeral events, art shows, and other events. Without money, things couldn't get done. We have a list of things to accomplish, including a new furnace to replace the original from 1959, new kitchen stove, replacement of the parking lot, replacement of the roof, and a new built-in refrigerator downstairs.
"I visited my dad's grave at the Massachusetts State Veterans Cemetery prior to the sale of the painting, and I asked Dad if he wanted me to continue to 'fight' the sale or agree to it. Dad came to me in the middle of the next night and said three words: 'Let it go.' Then he disappeared. So, I let it go."
Did your American Legion post home discover a now-valuable item, or even something of significance to your local community?
Tell us about it!
By Stephanie L. Holloway, Staff Writer