What is the process when your American Legion Auxiliary unit is planning an event or outreach activity? After your logistics are plotted and in the works, you then likely chart all of the places where you can get the word out. This is external marketing.

At ALA National Headquarters, we have a general go-to list for most of our promotions, but one source remains our most important: peer-to-peer (internal) marketing.

This is where you, our members, come in.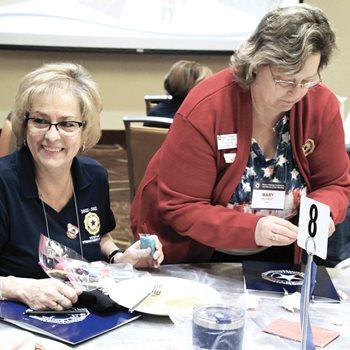 At ALA Mission Training, members of all ages, all levels of the Auxiliary, and all walks of life receive invaluable information on several topics relevant to our service: veterans, youth programs, membership, and more. Attendees also interact with members outside of their states and learn that what works for one unit, could be a different approach for another … aka idea sharing to the fullest degree.

Sure, National can hit some computer buttons and blast all kinds of messaging to our various ALA media channels to promote ALA Mission Training, but it's you we need in order to really get the word out. When you attend one of these enriching events, you become immersed in our programs for a day, learning from ALA leadership on how you can most effectively serve our veterans, military, and their families. We have fun while learning too!

Please sign up for these ALA events and tell your friends and fellow members afterward. It would mean the world to us here at National Headquarters. You see, we're not standing around with tablets and racking up registration numbers; it's way bigger than that. When more people attend Mission Training and take what they learn back to their units to implement ideas into action, it means the people we serve will be 100 percent heard and taken care of — in a way, life lessons for your unit.

For our younger members, we have national Junior meetings that take place at the same time as Mission Training for our senior members. Junior members who have celebrated their 8th birthday or older may attend the national Junior meetings. Many activities will be taking place that are fun and interactive. We hope by bringing the meeting closer to our Juniors, that many more will be able to attend this one-day meeting over a weekend.

See you soon: Cincinnati; Providence, R.I.; Lincoln, Neb.; Nashville, Tenn.; and Las Vegas! Learn more about Mission Training and National Junior meetings or register here.