It's no mystery why Mckensi Spears, 21, a junior at New Mexico State University and double criminal justice and psychology major, received the American Legion Auxiliary's Junior Member Loyalty scholarship. After being introduced to the ALA by her grandmother as a young child, Spears would remain very active and give much of her time to veterans, military, and their families. When she isn't reading a good mystery novel, she's going to an Auxiliary event.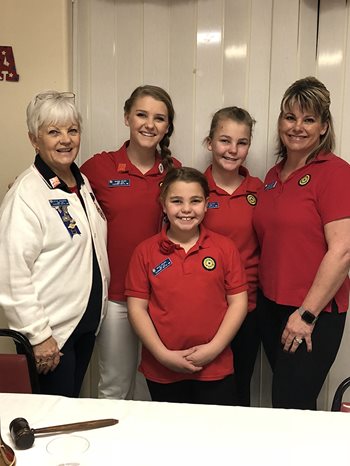 Members of McKensi Spears' family (from left): Joyce Hudgens, grandma; McKensi Spears, Melanie Spears, younger sister; Chari Spears Skidmore, mother; and in front is Micah Spears, youngest sister.
My grandmother being in the program, it definitely left a larger imprint, so when I was able to be involved in the Auxiliary, it really showed me how important it was and the influence that the Auxiliary can make on active military and soldiers," she said.
As Spears became more involved in the ALA, she would eventually lead her younger sisters and mother to become more active as well. As a family, they would attend many ALA functions together.
"I think my favorite memory would be going to the department [New Mexico] conference my [high school] senior year. We all went up for the conference, and a few of my friends who I got to join the ALA were there, and then my grandma was there with some of her friends from the Auxiliary, so it was just all-encompassing," she said.
Even now that Spears is in college, she and her family still make it to as many ALA events as they can.
"Every chance I get, I go back home and I see if there's an event my grandma is going to or go to one of the weekly night dinners or all the different things. There's always something we are going to for the Auxiliary," she said.
Going to college has presented Spears with many new opportunities. However, not all of them would be possible without the ALA Junior Member Loyalty Scholarship she received. It prevented Spears from having to get a second job, which allowed her to focus on her grades. As a result of this, she was able to meet the qualification to start classes for her master's degree, but as an undergraduate student.
"This scholarship really and truly made that difference," she said. "I am taking master's classes at an undergraduate price. I was able to get into that program because I have my tuition covered and I reached the qualifications process and all that."
Starting master's degree classes as an undergraduate can be intimidating, but receiving this prestigious scholarship helped instill Spears with confidence that she has the capabilities and support needed to succeed. Just as Spears has supported the ALA throughout her life, the ALA is now supporting her and cheering her on as she pursues her education.
If you want to support other students like McKensi Spears, donate to ALA Scholarships at www.ALAforVeterans.org/Donate. Just as McKensi said, these scholarships really and truly make a difference.