Honoring and supporting the sacrifice of those who serve is the foundation of the American Legion Auxiliary's mission. Although Auxiliary members are dedicated to helping our nation's heroes every day, Veterans Day — Nov. 11 — is the one day set aside annually to specifically show gratitude for all of our veterans and servicemembers.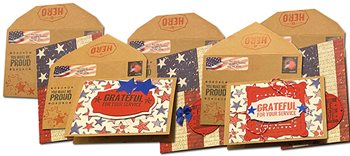 It's impossible to compensate veterans for their great personal sacrifice, but we can honor them on Veterans Day by demonstrating our deep appreciation for all they've done. Traditionally, Veterans Day is observed with local parades, dinners, and celebrations, but there are countless other ways to show your appreciation to veterans on this special holiday, and now's the time to start planning for them.

Beyond in-person events and volunteer activities, try giving back to veterans through kind words and artistic projects. These small acts of kindness come from the heart and will be treasured by our past servicemembers forever. Honor military veterans and educate our youth about the importance of Veterans Day this Nov. 11 with these craft ideas:

Popsicle stick flag
Get your Junior ALA members together to create these unique American flags for the veterans in your community. This craft is a fun way to educate Junior members of the significant sacrifice United States servicemembers have made and continue to make every day to ensure our freedom and safety. Junior members can present the finished flags to Legionnaires during Veterans Day celebrations.

Supplies needed:
Red, white, and blue paint
Popsicle sticks
Painter's tape
Thick cardstock
Glue
Mini star rhinestones
Ribbon
Directions:
Paint popsicle sticks red (4) and white (3). Make sure to allow paint to dry completely before next step.
Use painter's tape to create a rectangle for the blue portion of the flag. Apply 1-2 coats of blue paint.
Glue popsicle sticks onto a piece of cardstock. Let the glue dry, and then cut cardstock around flag. Make sure to let it completely dry before next step.
Add rhinestone stars to the blue section of flag.
Glue patriotic ribbon around a large popsicle stick. Then glue the stick to the back of the flag.
Handmade patriotic bookmark
Looking for a creative craft to do with your Auxiliary unit for Veterans Day? These handmade bookmarks can be completed by younger members, older members, and everyone in between. This is a great project to express gratitude in a meaningful way. Thank a veteran for their service by drawing a thoughtful picture or writing a heartfelt message on the bookmark. Give these handmade gifts to veterans at your local U.S. Department of Veteran Affairs medical centers to show your appreciation.
Materials needed:
Posterboard/card stock
Clear laminate paper
Red and blue markers, crayons, glitter, and/or stickers
Cord/thick string
Alphabet beads and other decorative patriotic beads
Directions:
Cut a bookmark shape from the posterboard.
Write a special message and decorate the bookmark however you want.
Laminate paper. Trim.
Punch a hole at the top of the bookmark. Thread your cord or string through.
Spell out your message with the beads.
String the beads in order.
Personal thank-you cards for veterans
Often the most memorable and encouraging gifts our veterans will receive, personal thank-you cards/letters with special messages for the veterans in your life will let them know how grateful you are for their sacrifices.
Card suggestions:
The message you write should speak from the heart.
It can look any way you want it to. Make it simple, or be creative — the possibilities are endless.
Ask your Auxiliary unit and Junior members to make cards and slip them into local veterans' mailboxes, or give them to Legionnaires at your post home.
Make Veterans Day cards during an ALA meeting, and contact your local VA facility to schedule a time to deliver them.