It takes a great deal of determination and hard work to complete annual ALA mission-oriented service projects — let alone a successful monthly project. Members from American Legion Auxiliary Unit 81 in Lake Havasu City, Ariz., have continued a longstanding project of sending care packages to deployed brave men and women of the United States Armed Forces since 2005.
"Well, I feel like the people who are in the Armed Forces, they're defending us, protecting us, serving. And this is our way to pay them back for their service," said Judy Harvey, Unit 81 member.
The Troop Box Convoy is a monthly care package project that Harvey and fellow Unit 81 member Jan Swift work tirelessly at every month. Other Unit 81 members pitch in their efforts when needed.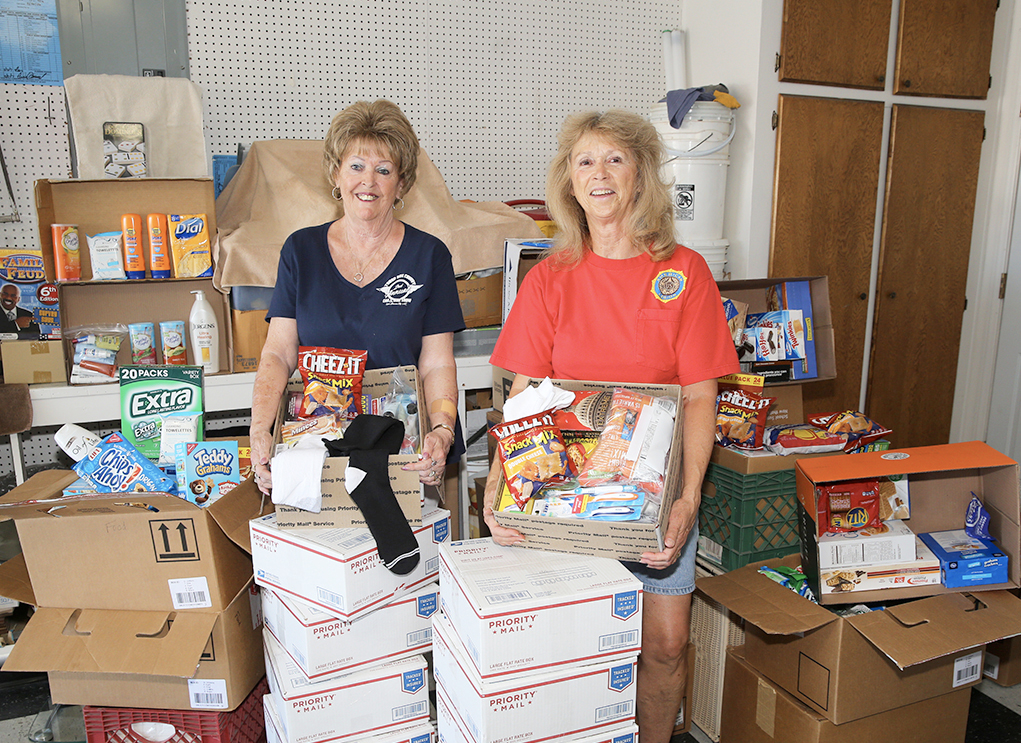 Jan Swift (left) and Judy Harvey pack monthly care packages for military personnel
Photo: RiverScenemagazine.com
"We started with one box. And last week, I packed 28 boxes. That tends to be how many we do, and we do them every month," said Harvey.
The Troop Box Convoy is an expensive program to run and continue monthly, but Lake Havasu City's Unit 81 is committed to helping the heroic men and women who are overseas. Unit 81, with Harvey and Swift leading, have conducted many fundraisers throughout the years to help pay for the cost of this project.
"It's a lot of money. The 28 boxes cost us $516.60 just to mail," said Harvey.
Two years ago, a Legionnaire reached out to the women of Unit 81 about doing a Car and Bike Show as a fundraiser to raise money for the care package program. Their first year doing the Troop Box Convoy Car and Bike Show was a success with 187 cars and motorcycles registered. The following year, in 2019, the show drew an even larger crowd with 218 cars and motorcycles registered.
The third annual Troop Box Convoy Car and Bike Show will be held March 28, 2020.
"We will continue to do this. We have raised enough money to continue the programs for troop care packages on a monthly basis. We've gained more names of individuals and groups, and we've been able to expand the program to be a military support program. So, we've been able to help some veterans and their families too," said Harvey.
Donated items include snacks, toiletries, and entertainment items. Some of the frequently donated toiletry items are baby wipes, body wash, foot powder, deodorant, toothbrushes, toothpaste, and socks. Occasionally, hotels will even donate sample sizes of shampoo, lotion, and conditioner. Snack items such as peanut butter crackers, granola, raisins, nuts, protein bars, and Crystal Light packets are always a troop hit, according to Harvey.
In the beginning, Harvey, Swift, and other Unit 81 members had to beg for donations. Now they have an outpouring of offerings and they have enough money to buy better quality items.
"It's a benefit having the money so we can send them some of the things they really want," said Harvey, crediting the Troop Box Convoy Car and Bike Show.
Unit 81 extends their hearts and helping hands through their monthly care packages to deployed and stateside military personnel. The unit accepts referrals from anyone who has a loved one deployed or a recipient from anywhere in the United States. A lot of the time, they send troop boxes to complete strangers.
---
"They appreciate that strangers are sending them packages," said Unit 81 Vice President Vicki Hart. "They are very appreciative of just the fact that people in the States are thinking of them."
---
Grateful to the Troop Box Convoy Car and Bike Show's success, Unit 81 has plenty of donations, but they are still in need of military personnel addresses to send the boxes to.
"We want more names to be able to send these care packages to," said Hart.
Wanna help? Email Vicki Hart or Judy Harvey at harveyjudy81@gmail.com or vickiaz@yahoo.com with the names and addresses of your deployed loved ones, and they will receive a specialty care package.