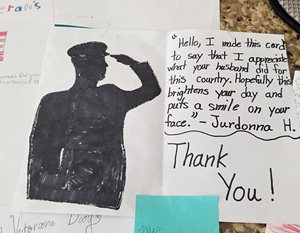 This is one of more than 200 handcrafted cards of appreciation from children at an elementary school near the home of ALA member Vicky Tomasello.
Toiling away in her home garden, American Legion Auxiliary member Vicky Tomasello unknowingly cultivated a connection with local schoolchildren — who found a special way to show their appreciation for the military service of Tomasello's late husband, other veterans, and servicemembers.
The students at Discovery Oaks Elementary School wrote about 200 heartfelt cards and letters to Tomasello. Some of the writings expressed condolences after the 2018 death of her husband Allen, a U.S. Navy Vietnam War veteran. Other messages were more general, thanking all veterans and troops for their service. The students asked Tomasello to share the letters of appreciation with her American Legion Family at her post home. The letters and cards were part of a Veterans Day school project.
The children, whose school is near Tomasello's home, became familiar with Tomasello after seeing her often tending to her home garden. It's the same garden Allen had frequently worked in as a hobby and a rehabilitative refuge from his recurring PTSD, plus the pain related to his cancer.
"I wanted to show the children, in some small way, how they touched my heart and the hearts of others," said Tomasello, a member of ALA Unit 137 in Jacksonville, Fla. She found a way to pay them back for their kindness. Now, she is working on paying it forward to others.
Tomasello successfully sought donations from her Legion Family at Post 137 and was able to put together 216 goodie bags for the children. She worked with the school's staff to develop a plan to safely distribute the bags. Tomasello and Post 137 Legionnaires Richard Lane, Charles York, and Mark Swanson gave out the goodie bags to students, gave a thank-you letter and a gift card each to Discovery Oaks Elementary teachers Daniel Kaufman and Elizabeth Thornton — both of whom are military veterans, and presented the school's principal with a Certificate of Appreciation from American Legion Post home 137. The event received media coverage from WJXT-TV News4Jax.
To pay it forward, Tomasello intends to send the more-generalized service appreciation cards and letters to deployed U.S. troops.
This exchange of kindness started after the children and their physical education teacher Daniel Kaufman noticed Tomasello tending in her home garden on several occasions. One day, Kaufman walked over to Tomasello's house and introduced himself, telling her that the students warmly referred to her as "The Garden Lady."
Once Kaufman learned about the death of Tomasello's husband, he came up with the idea of having his students write the letters and cards as part of their Veterans Day school project. The students also made her a "Garden Lady" sign.
Tomasello said she hopes to build on the relationship her post home has with the elementary school and its students. Kaufman voiced a similar sentiment in an interview with WJXT-TV News4Jax, suggesting mentorship programs in the future.
It seems fitting that this special friendship, and outpouring of appreciation for veterans and servicemembers, grew from the same garden that served as a peaceful and happy refuge for Tomasello's Vietnam veteran husband Allen, for whom the aftermath of war had become too much for him to endure at times.
Vicky Tomasello is a lifelong member of the ALA. Her eligibility is based on the military service of her father, U.S. Navy veteran Robert Wankowski, who served in the Korean War.