Year after year, day after day, American Legion Auxiliary members are dedicated to the mission of serving veterans, military, and their families. Seeing the need to appreciate a member's loyalty a little extra, John Tester, a Vermont Ballard Hobart Auxiliary Unit 36 member, gifted a 75-year continuous membership certificate to fellow member Emma Lannon.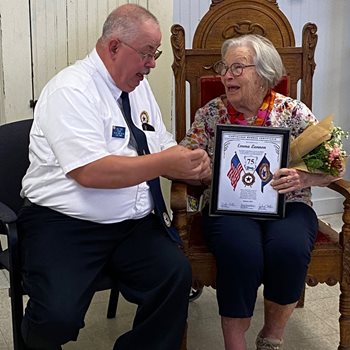 "I think we need to recognize our members who have been continuous members for many years — to acknowledge their participation in the American Legion Auxiliary," said Tester. "It's very important, and 75 years is a huge, huge milestone and I think that needed to be recognized."

Lannon joined the Auxiliary in 1947 and was a very active member for many years. Within the last few years, Lannon has been residing at the local nursing home, which is where the 75-year recognition event was held. A group of Unit 36 members gathered at the home to show their support and appreciation. Lannon sat in a big chair in the center of the room while Tester presented her with the certificate and a poppy pin that he pinned on her scarf.

"Emma was absolutely ecstatic! All she wanted to do was talk about her husband and his service and how much she enjoyed being at the post home while she was active," said Tester. "I think by doing a public recognition of 75 years, I think that shows other members that haven't joined or people that are eligible to join, that it's a worthwhile organization to join if someone is going to be a member for 75 years."

Tester created the 75-year continuous membership certificate on his computer. He included signature lines for ALA National President Vickie Koutz and Vermont Department President Kelly Donaldson to sign as an extra token of appreciation. Tester also added his signature as her Unit 36 president. As a final touch, they had the certificate framed.

"I really thought it was important to get the recognition that was due from the national president and department president, so I created a certificate that had their signature lines on it and then had them sign it," said Tester.

As one of the first male American Legion Auxiliary members in the country, Tester is eligible for membership through his wife Catherine who is a veteran of the United States Marine Corps.

Before Tester became an Auxiliary member, he was able to see the hard work American Legion Family members do by traveling with Catherine when she was Vermont department commander.

"I love the Auxiliary. I love the work we do. I love that we serve veterans, military, their families, and our communities," said Tester. "The Auxiliary has really impacted my life for the better because it's allowed me to go out and give back to all these deserving groups of people."

American Legion Auxiliary members' dedication is crucial to the survival of the organization. It's important that we appreciate and acknowledge the love and loyalty Auxiliary members make.

"If somebody is going to be a member of an organization for 75 years, that is an organization I want to join — I want to be a part of that," said Tester.