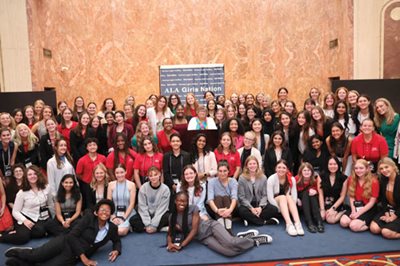 ALA Girls Nation Government Director Jane Thurston of Indiana has made an impact on hundreds of teens (close to 1,500 to be exact!) who have participated in ALA Girls Nation over the years. Add to that the thousands she impacted at ALA Hoosier Girls State. That effect could be seen at ALA Girls Nation 2023 when the senators honored Thurston with a memorial resolution on the final day of senate session. The resolution honored Thurston for her 15 years of volunteering with ALA Girls Nation and 30 years of service with ALA Hoosier Girls State.
​Thurston's journey began in 1992 when her former high school teacher, Ilene Bailey, got her involved in ALA Hoosier Girls State as a city government counselor. An interesting note about that year: It was also when another counselor — Past National President Vickie Koutz — began her service with the program.
Fast forward 15 years and as fate would have it, Thurston joined the government staff at ALA Girls Nation.
"Again, Ilene Bailey recruited me. She had been on the government staff at ALA Girls Nation for serval years. Someone backed out at the last minute, and she suggested me. It was the right place, right time," said Thurston.
ALA Girls Nation focuses on the federal government. To make sure the participants were getting an authentic experience, Thurston did her homework.
"When I joined the government staff at ALA Girls Nation, I read everything I could get my hands on," said Thurston. "I watched Senate sessions on C-SPAN. I ordered books from the Senate gift shop. I studied the Standing Rules and Bylaws of the United States Senate."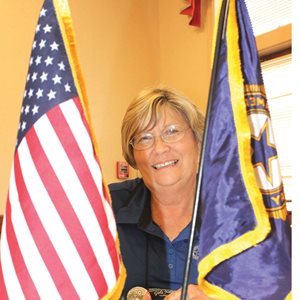 Prior to serving at ALA Girls Nation, Thurston was prepped for the job by serving at ALA Hoosier Girls State as a city government counselor, county government counselor, Federalist party adviser, and Senate adviser. An Indiana politician also helped her sharpen her skills.
"Former Indiana Lieutenant Governor Becky Skillman was an ALA Hoosier Girls State alumna and worked with us," she said. "She taught me a lot."
Participating in ALA Girls Nation opens doors for many senators, and they grow as a person — a transition Thurston saw every year.
"For some, it's the first time they have met girls as driven as they are. For others, it is the realization that there is a big, wonderful world outside of their small community," said Thurston. "For those who tend to be shy, they realize they have just as much to offer as the more outgoing girls. For a lot of them, it is the first time other women have been so supportive and encouraging."
Thurston also said senators learn that politics play a part in their life, and they can actually do something about it.
"Learning the process of how to affect change in politics is a skill that translates to all areas of life," she added.
That's not the only thing that changes by the end of ALA Girls Nation.
"The level of confidence is the biggest change I see. Some girls become more confident in taking a risk. Some become confident enough to express their opinion. They become confident enough to listen to other points of view and change their minds," said Thurston. "I see it in the tone and volume of their voice, I see it in the way they walk and carry themselves, I see it in their smiles, and I hear it in their laughter."
Thurston said it's been wonderful to meet ALA members from all over the country, with many of them becoming friends.