A visit to Arlington National Cemetery is emotional as respects are paid to those who unselfishly served our country. Even more emotional: laying a wreath at the Tomb of the Unknown Soldier.
Each year, a trip to Arlington National Cemetery is a highlight for ALA Girls Nation senators. During the visit, a wreath is placed at the Tomb of the Unknown Soldier. The night before the visit, senators learn about the meaning and importance of the red poppy. Every senator is then involved by placing traditional crepe paper poppies on the wreath to honor and remember our veterans and servicemembers.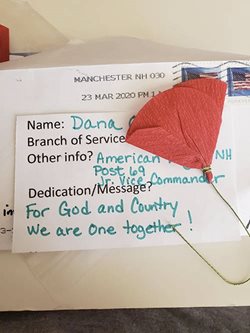 The 2021 wreath will have even more significance – the poppies will be made by female veterans. The project, Her Poppy Tribute, was created by Arizona ALA member Marge Christianson, who is serving as the ALA Girls Nation poppy chair in 2021.
"I brought some poppy materials to a women veteran art wellness program and asked if anyone would be interested in making a poppy for the wreath. Every single woman came forward to make a poppy — many with tears in their eyes," said Christianson. "It was then that the idea of a national effort took hold."
Christianson sends do-it-yourself poppy kits to those interested in helping with the project. In addition to the materials needed to make a poppy, an information sheet is included for the veteran to complete. She has already received a poppy from a female veteran in every military branch. Christianson would like to receive 500 poppies.
Kits are being distributed to volunteers across the country who are asking women veterans to create a poppy. If you are interested in receiving and/or distributing a poppy kit, contact Christianson at ALAunit62AZ@gmail.com.
This article was originally published in the August 2020 Auxiliary magazine.