Henry Ford is quoted as saying, "Coming together is the beginning, staying together is progress, and working together is success." Members of the Copley, Ohio Veterans of Foreign Wars Post 7971, American Legion Frank Bender Post 473, and ALA Unit 473 are a living embodiment to that quote through the many projects they work and fund jointly for the veterans and their families in their local communities.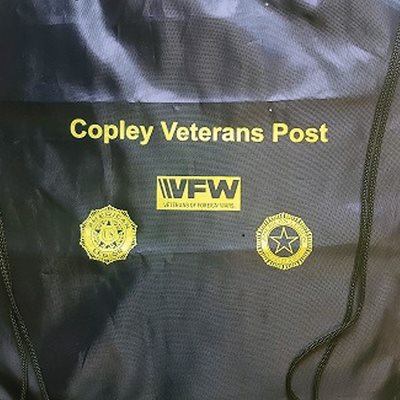 In 2011, Legion Post 473 and VFW Post 7971 entered into an agreement to share the use and provide ongoing management of a property in Copley. Through the agreement, the joint relationship is titled "the Copley Veterans Post" and is home to separate meetings and functions of both posts, including the Auxiliary.

The groups came together to help homeless veterans in the Akron area and collaborated to help the Valor Home, a local organization that assists homeless male veterans, and the Liberty House, which does the same for homeless female veterans.

The groups jointly purchased small backpacks, also known as ditty bags, that were filled with personal items for the veterans. For men, the ditty bags were filled with socks and toiletries, and for women, the bags contained a scarf and feminine toiletries. Logos for each of the organizations were imprinted on the bags, along with the name Copley Veterans Post.

This project is one of many the Copley VFW, American Legion, and ALA work and fund together, including social events for veterans and their families.

Working together for a common cause
The Copley Veterans Post is a great example of how working with other veterans service and community organizations can build awareness for all organizations involved and provide more resources to help veterans and their families in local communities. Here are some ideas for events you might be able to plan with like-minded groups in your community:
Plan a sendoff and/or welcome home event.
Plan a stand down.
Coordinate a Veterans Creative Arts Festival with your local U.S. Department of Veterans Affairs facility.
Facilitate theme-related events such as a back-to-school bash, Easter egg hunt, or a holiday-themed party (with gifts) for military and underprivileged children at the post or local community center.
Hold a 5K Freedom Walk with proceeds going to a veterans-related cause.
Hold a Community Covenant event, POW/MIA awareness event, 9/11 remembrance event, or Blue Star Banner Salute.
Hold other mission-focused events that are open to the community.
Possible community partners
In addition to working with other veterans service organizations like the VFW, there are many local community organizations that might be a good partner for your American Legion and ALA events and projects:
Local high school National Honor Societies and JROTC
Local college students: community engagement/service office and/or Student Veterans of America group
Local churches
Family Readiness Groups
U.S. Navy Seabees
ALA Girls State alumnae
American Legion Baseball teams
Boy and Girl Scouts, Cub Scouts, and Brownies
Boys & Girls Clubs of America-affiliated Military Youth Centers on military installations
Any partnering organizations already with a connection to your unit
Individuals interested in volunteering with the Auxiliary
YMCA
For more information on how to plan an event with another community organization, be sure to visit www.ALAforVeterans.org and search for "How to Partner with Organizations for Community Outreach."