For some ALA Junior members, their connection to the military runs even deeper than their membership eligibility. This is true for 15-year-old Trinity Piper, a member of Unit 254 in Johnstown, Ohio.

"I've always kind of been interested in the military, especially the Navy," she said.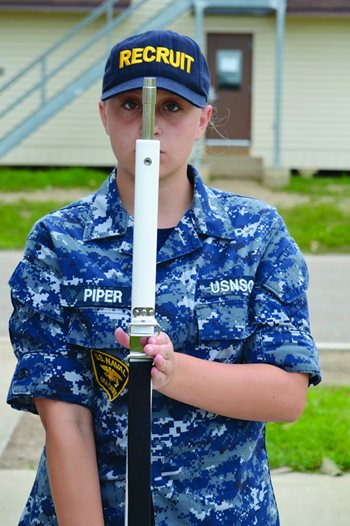 Through one of her mom's friends, Piper found out about the Navy Sea Cadets. She's been involved with the group for over 10 months.

The Navy Sea Cadets is a maritime-based youth program sponsored by the U.S. Navy and supported by the U.S. Coast Guard.

Cadets train on naval bases and other military installations in a variety of military disciplines, always choosing adventure, seeking challenges, and stepping outside of their comfort zones. The mission of the Sea Cadets is to build leaders of character by imbuing in cadets the highest ideals of honor, respect, commitment, and service. The program is for ages 10 to 18 years old.

"I started attending the Sea Cadets and explored a lot and ranked up throughout the different ranks I'm eligible through," Piper said.

She has really enjoyed her experience with the Sea Cadets so far.

"There are a lot of cool trainings you can go to, and overall, it's a great experience," she said. "I mostly enjoy the friendships you make, the experiences you get and the adrenaline rush, and trying to complete the coursework and rank up through the program."

Piper attended a nine-day recruit training at Fort Custer Army base in Michigan.

"At first, it was kind of scary to be away from home that long and that far away with no contact with my mom besides a letter home," she said. "I got used to it and got close to people in my barracks and knew it wasn't going to be forever. I was there to enjoy my time and learn as a Sea Cadet."

With a training of this length, Piper faced a few challenges. Not being able to physically talk to her mom over the phone or see her pets was difficult. The weather in Michigan was also a struggle, along with mosquitoes during that time of year.

Most of the training is a simulation for the most part of actual recruit training for the Navy.

Being part of the program has helped enhance Piper's leadership capabilities.

"Throughout the program, I've been able to help teach the younger kids at my Sea Cadet unit," she said. "After getting the trust of my officers and being able to prove I am worthy of the leadership roles, I have been appointed to be an assistant squad leader and helping out with the younger kids in my squad."

To learn more about Navy Sea Cadets, visit www.seacadets.org.