June is PTSD Awareness Month

An extra emphasis during the month of June is placed on raising public awareness about issues related to post-traumatic stress disorder, reducing the stigma surrounding it, and helping ensure those who suffer from it have access to proper treatment. Since 2014, June has been known as Post-Traumatic Stress Disorder Awareness Month.

For veterans, there are multiple ways to treat PTSD. One form of treatment is through creative art therapies, such as music.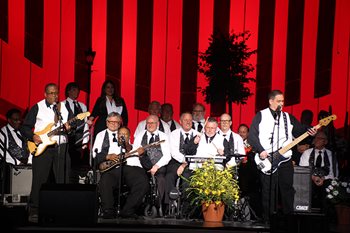 Using creative art therapies as a treatment in a clinical setting is a form of therapy offered throughout U.S. Department of Veterans Affairs facilities to help treat veterans for PTSD, in addition to medicinal treatment. Since 2005, the VA has prioritized this as a form of treatment — that year, the number of music therapists at its clinics across the country doubled to better treat veterans. Additionally, art and recreation therapists also help veterans manage their PTSD symptoms.

At the Miami VA Healthcare System, music therapist Natalie Cole works daily to help those who have served our country navigate through the invisible wounds of war through music.

Cole will never forget working with a veteran while he learned a new instrument and the reaction he had, which solidified to her the power of music therapy.

"There is stress when it comes to learning a new instrument when you come from a high-stakes environment," she said. "I had one guy, who, any time he would play just one wrong note, he would make such a big deal about it. I would be like, 'Dude, what's wrong? It's not that serious.' And he would be like, 'You don't understand. When I was in the military, if I made a mistake, it meant someone's life was in danger.' From that perspective, we need to practice re-working that. Come back to reality when you are playing the instrument. Get to know your guitar, feel your guitar. Know that if you press the wrong note, nothing bad is going to happen, and it's OK to make mistakes and maybe you will find something a lot nicer in your mistake. That was an eye-opening moment for me as well."

One aspect Cole enjoys about working with music and mental health in general is the ability to address emotions and memories indirectly.

"A lot of the therapies ask that you talk directly about what happened, so there's a little bit of exposure there; it's very purposeful," she said. "But the nice thing about music, we can address it through maybe songs that bring up events. The emotions are there, and we don't have to say it exactly."

At the Miami VA, music therapy is a required part of the PTSD program.

At the beginning of a session, whether it's with a group or an individual, Cole starts off with a music and mindfulness exercise. She will play a song without lyrics, usually one between three and three and a half minutes, and the veterans just practice sitting and listening, engaging in the mindfulness practice of being present.

"They come in and they are very uncomfortable with what we do with that music and mindfulness, and they are so anxious they can't sit still," she said. "When you just listen to what's happening, you find it more relaxing. I find I'm able to calm them down a bit."

After that, the sessions vary but tend to have a main goal for the day, whether it's communication or attention or decision-making or something else.

Recently in a group session, the veterans worked on a songwriting project. Each of them took on a different focus.

"They have their own way of working together to create the ultimate project," Cole said. "For a while, I didn't know if this project would catch. This was my first time doing it with them, and they were like, 'No, I thought it was cheesy at first, but at the end, it was my creation. I was really invested in making sure it came out well,' so that was kind of a more lighthearted approach to addressing cognitive skills, decision-making, teamwork, and communication among the group members, but also that emotional expression of how we get the music to create a certain mood or vibe."

Cole has seen firsthand the power that music and art therapy has on our nation's veterans who are suffering from PTSD. Although many of them come to their first session skeptical of the benefits, many veterans leave transformed with an appreciation of this form of therapy.

"I don't want to say it's more beneficial because each thing is helpful in its own way — it's just a bit out of that traditional form of things," she said. "Music is connected to so much throughout our lives and throughout different cultures and throughout time as well."

Cole often gets asked about the kind of music she uses for her PTSD patients. Her answer is always the same.

"My response is whatever they want," she said. "It's not my decision what's best for you. It's your decision what you choose. Maybe sometimes it brings up some negative coping skills, but then it brings up the topic of let's talk about the balance of emotions. Anger is important, but we shouldn't live in it. Sadness is important, but we shouldn't live in it. Same with happiness. It's unrealistic to live in and be these emotions all the time, so there's a time and place for each song and a time and place for each emotion."

For some veterans who are part of music therapy programs in VAs across the country, they get the opportunity to showcase the difference this form of therapy has made in their lives through local Festivals and the National Veterans Creative Arts Festival.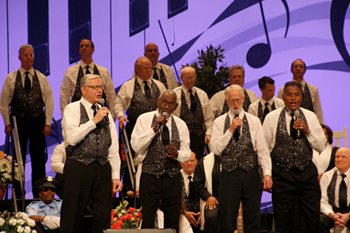 Each year across the country, veterans enrolled at VA health care facilities are invited to compete in a local creative arts competition with selected gold medal-winning veterans invited to attend the NVCAF. The national Festival is co-presented by the VA and the American Legion Auxiliary. The annual event recognizes the progress and recovery made through therapy.

"What I love about music and art therapy is in the end, it's what you can create," she said. "Everyone is able to do something. In the end, it's OK to have fun as you grow. I think that's one of the big things I try to emphasize — addressing trauma and addressing any kind of life challenges doesn't always have to be tears and fears. It can be just learning to enjoy the moment and engaging in new ways. That's kind of the biggest takeaway."

Cole hopes more veterans in the U.S. will take part in PTSD programs that focus on creative art therapy.

"Take time to learn more about it and not dismiss it so quicky," she said. "There's a lot more benefit than I think people will understand offhand."

To learn more about the creative arts services offered through the VA, visit www.va.gov. For more information on the National Veterans Creative Arts Festival, go to www.blogs.va.gov/nvspse/national-veterans-creative-arts-festival.

By Sara Fowler, Staff Writer