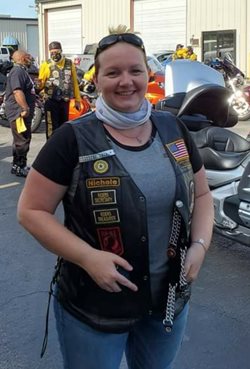 Nichole, a mother of eight and avid motorcycle rider, has been a member of the American Legion Auxiliary for four years. Nichole was first introduced to the ALA when she, her husband, and her father-in-law were invited to visit a local unit. After meeting the other members and seeing how active they were in serving their local community, as well as our nation's heroes, all three decided to join The American Legion Family. Over the years, Nichole and her husband grew more involved with the unit and post, eventually joining American Legion Riders and doing motorcycle rides to raise money for organizations in their local community — all while becoming extremely close with their fellow members.

"We've made awesome friends," Nichole shared. "I just can't even explain how I feel about people in the post because they're like family. I love them."

Just as Nichole describes, joining the ALA also means joining a new family — one that carries out its mission to serve veterans, military, and their families, but also one that looks out for one another, no matter what. Nichole learned this firsthand when her family fell on hard times during to the COVID-19 pandemic.

Like so many, Nichole's husband was the victim of a poor economy and was laid off from his job. After a while, their bills began to build up, and with eight children to feed, it came to a point where they needed to ask for help. After talking with her unit president, Nichole was encouraged to apply to the Auxiliary Emergency Fund for assistance. She was awarded a Temporary Financial Assistance grant, which they were able to put toward their increasing bills.

"It meant a lot," she said. "It makes me feel like the whole organization cares about its members and its communities. It made me feel better knowing the kids were going to have electricity and water. My husband was surprised. He was kind of lost for words at first. He thought we were going to be stuck in that hole for a bit."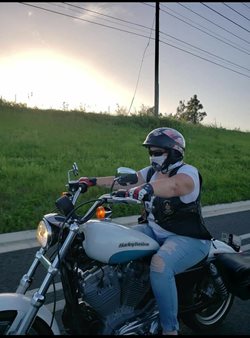 The AEF is possible only through members' commitment to helping one another. If members and supporters of the ALA weren't willing to donate their time and money to the AEF, it wouldn't be here to help members like Nichole and her family when they need it. Luckily, members helping members is a long-standing ideal of the ALA, and as long as it is, no Auxiliary member will have to face their crisis alone.

"I wouldn't even know how much to thank them," Nichole said. "I give them so much credit for donating the money and wanting to help and wanting to be there to do that. Those people have big hearts."

If you have been affected by a financial or natural disaster, click here to apply to the Auxiliary Emergency Fund and get the help you need. If you can, please click here to make your most generous gift possible to the AEF. By doing this, you are making sure no Auxiliary member is alone in their time of crisis.