Learning is something that never ends. No matter our age, there is always something new we can learn or teach others. As an organization, it is important for American Legion Auxiliary members to share knowledge with each other to help continue the ALA's longstanding mission of serving veterans, military, and their families.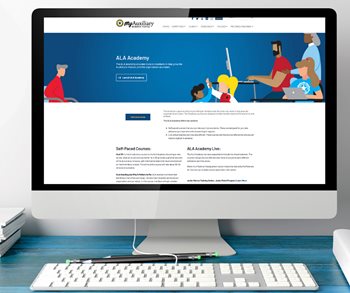 Auxiliary members of all ages and levels in the organization can learn new skills and ways to serve through ALA Academy and ALA Academy Live — all of which are free. In addition to the self-paced courses on ALA Academy, you can now access recordings from previous ALA Academy Live webinars at www.ALAforVeterans.org/ALA-Academy. You will need to log in to access the recordings.

The list of available webinars continues to grow as National Headquarters staff and members work together to create new material. The recordings available:

ALA Foundation Grants Panel
Learn how to apply for grants for things such as a local Veterans Creative Arts Festival or promoting the Auxiliary while working the mission.
Junior Mentor Training Series Course 1: Getting Started with Juniors
Learn how to create and instill an appreciation and habit of service in Juniors so they'll stay involved as adult members.
Junior Mentor Training Series Course 2: Junior Patch Program
Develop an understanding of how the ALA Patch Program relates to our mission and how to engage Junior members in the program.
Junior Mentor Training Series Course 3: Juniors and The American Legion Family
Get ideas on how to expand the role of ALA Juniors within The American Legion Family.
Junior Mentor Training Series Course 4: Junior Meetings
Engage Junior members by offering more informative and fun meetings
Develop an understanding of how to utilize parliamentary procedure during Junior meetings
Learn about Junior meeting etiquette and protocol, and how it differs from adult meetings
The role and function of honorary Junior officers
Mission Delivery: Basic Training
Discover the mission needs in your own community and think differently about how we get others to join us in service.
Mission Delivery: Veteran Service
Get resources to tailor your programs to meet the needs of the veterans in your community and learn about opportunities to serve in U.S. Department of Veterans Affairs facilities.
Mission Delivery through Caregiver Support
Discover American Legion Auxiliary specific tools and training in place within the Military and Veteran Caregiver Network.
New and exciting opportunities through the VA emerging to meet the needs of caregivers during the pandemic.
Mission Delivery: Veterans Creative Arts
Learn how to support local veterans creative arts competitions both financially and with volunteer support.
Discover ways to fund activities through VCAF grants from the ALA Foundation.
Unit Fundraising: Moving the Mission Forward by Engaging your Community
This course features volunteer fundraisers who have had success in elevating their organization in the community, ultimately raising money for their projects. It also includes helpful tips and tricks for replicating or creating a successful fundraiser in your community.
Using Poppy Funds to Serve our Mission
Educates members on how to use their poppy funds in accordance with The American Legion criteria with an emphasis on food insecurity amongst junior enlisted servicemembers and their families.
If you have not taken an ALA Academy self-paced course, consider adding them to your list of learning opportunities. Most take less than 45 minutes to complete and can be taken at your convenience. Courses available:
· ALA 101
· ALA Branding and Why it Matters to Me
· ALA Communication Methods
· Establishing an ALA Culture of Goodwill
· ALA Fundraising
· How to Deal with Conflict
· ALA Leadership: Living Our Motto of
Service Not Self
· ALA Juniors eLearning Course
To keep up to date on all of the latest offerings for ALA Academy and ALA Academy Live, follow our social media channels (@ALAforVeterans) and the monthly
ALA eNews.