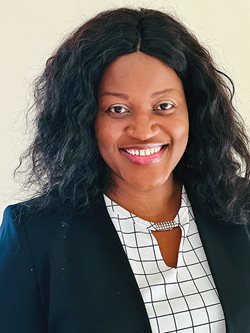 When Lydiah Owiti married a U.S. servicemember in 2012, she had practiced law in her native Kenya for seven years.

Shortly after the couple married and moved to Delaware, Owiti's husband, Geofrey Otienoh, was deployed with the U.S. Army to Kuwait. She was left behind with no job and a law degree that her new country did not recognize.

Owiti realized that even if she sought training to practice law in the United States, each time she and her husband moved, she likely would have to pass the bar in her new state to continue her career there.

"My sense of identity was crushed," she said.

Now, after years of struggling to find work in the United States that would fit with her experience while accommodating the nomadic lifestyle of a military spouse, Owiti has found her professional calling with a role that allows her to help military spouses experiencing many of the job-seeking challenges she has encountered.

Best of all, it's a remote position — if Owiti and her family move, her job comes with her. Owiti is manager of Military Spouse Professional Networks for the U.S. Chamber of Commerce Foundation's Hiring Our Heroes program.

She joined the American Legion Auxiliary while living in Union City, Calif., and now lives in Southbury, Conn. Her employer, which works to connect people from the military community with American businesses, is based in Washington, D.C.

Owiti said she's seeing more and more military spouses who, like her, are securing jobs they can perform anywhere.

WFH Research, a team studying trends in at-home employment, reports that working from home saw a five-fold increase between 2019 and 2023, with 40% of U.S. employees now doing so at least once a week. In 2021, freelancing platform Upwork projected that — thanks to practices that began during the COVID-19 pandemic — by 2026, about 28% of U.S. employees would be completely remote.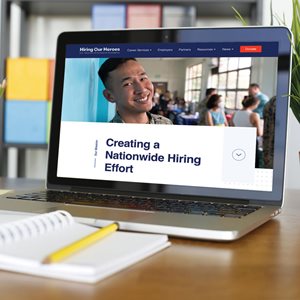 In her position with Hiring Our Heroes, Owiti works to ensure that servicemembers' spouses have greater access to jobs that fit with their interests, aptitudes, and availability. That often means remote work.

How has remote work affected your life?
It was a game changer. It was probably the only consideration that would make or break [my career decision]. I went into project management because of the portability and flexibility. And having three kids in different age groups requires a lot of balancing. I targeted work that was remote.

What are the benefits of remote work?
I think companies understand that the environment you create for your employees will either make them efficient and effective or not, whether they're in a physical space or a virtual space. If you invest in training, systems, and processes that enable your employees to perform, they will. On the other hand, employees who have the flexibility of working from home can remove the barriers that stress them out emotionally and financially.

If I can maintain my productivity without having to be in a physical space, then it's good for the employer and for me.

Do you expect employers to continue hiring more remote workers?
I do expect it to continue. Companies realize the benefit for them, which is usually what it takes for them to say, "OK, this is working." When companies offer opportunities only for people within a locality, there may be many other people who are qualified for the same thing who can do the job virtually. So [remote work] has exploded, and many military spouses are getting jobs, courtesy of virtual programs.

What remote work resources does Hiring Our Heroes offer?
We have trainings for how to prepare yourself for virtual work. We help with résumés, networking, and many other things. We refer military spouses to websites like FlexJobs and Instant Teams. We also have many organizations working with companies that are military-friendly. So, we have a whole host of companies that know the lifestyle of a military spouse and are willing to work with them regarding their mobility issues.