American Legion Family focused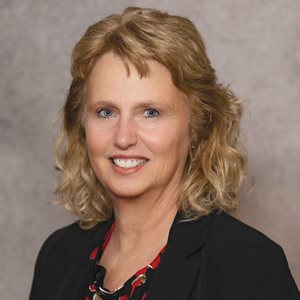 Enthusiasm radiates from ALA National President Lisa Williamson, whether she's talking to 100 people or just one. It's contagious, making the people who are listening or talking to her want to get to that same level of excitement about serving our veterans, military, and their families.

"I'm passionate about our mission and I'm passionate about our American Legion Family," she said. "I raised my children in this organization."

Williamson is ready to make a difference this administrative year as Alaska's first ALA national president, continuing the Auxiliary's longstanding tradition of Service Not Self.

Family life
Williamson was born in southern California and moved to Fairbanks, Alaska, when she was 7 years old. Fairbanks is the second largest city in the state.

"Instead of an Army brat, I was a university brat," she recalled. "My mom and dad both worked for the University of Alaska Fairbanks — my dad in the graphic artist position and my mom was a secretary for various deans. At one time, my folks were resident advisers at one of the biggest dorms there, so I had 800 brothers and sisters during the school year living under the same roof."

Williamson was an intern reporter when she was a junior and senior in high school and continued through college when she attended for a few years and majored in journalism.

Years later, she moved to Anchorage and was looking for a new line of work when she opened the newspaper and saw an ad for administrative assistant for The American Legion Department of Alaska. She worked there for eight years.

"I really learned the Legion side of the house and the Sons — we didn't have the Riders quite yet," she recalled. "I saw that it was a family and saw how the family worked together."

Williamson birthed her son, Kyle, while working for the Legion.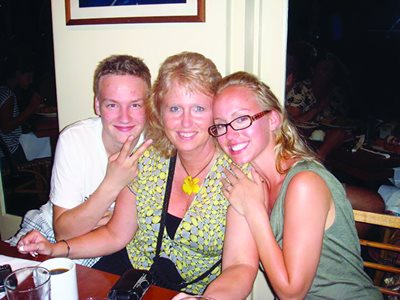 "Kyle was literally raised in this organization," she said. "He's gone to convention and workshops and conferences. He's held offices in the Sons of The American Legion. My daughter, Danielle, was an ALA Junior member and went to national Junior meetings and ran for and was elected to office at the department and national levels."

After high school, Kyle asked Williamson to go to Eielson Air Force Base with him so he could take his oath of enlistment. She had no idea he was intending to join the military.

"As he was growing up, he had the opportunity to talk to all of these different Legionnaires about the different branches of service," she recalled. "I didn't realize he was doing it to figure out which way he wanted to go. As a mom, you are scared, but you are so happy and thrilled knowing you did a good job."

The family enjoys going to their recreation cabin located about half an hour from home to drive four-wheelers and get off the grid.

"You are right on the verge of cell service up there," she said. "In an emergency, you could make a call and get things through, but emails, not so much. Sometimes when we want to disconnect, that's where we like to go."

After working at the Alaska department headquarters, Williamson held a couple of other miscellaneous jobs before becoming a licensed realtor. She has been in that career for over 20 years now.

Getting involved in the Auxiliary
Williamson has served several unit-level positions and multiple department-level offices and chairmanships. At the national level, she has served as chair of the Auxiliary Emergency Fund, Veterans Affairs & Rehabilitation, Children & Youth, Education, Legislative, Constitution & Bylaws, Public Relations, and Junior Activities committees, and as 100th Anniversary Committee member, National Executive Committee member, ALA Centennial Strategic Plan strategy co-captain, and American Legion Auxiliary national vice president.

Williamson has enjoyed her various roles but said she really loved when she was the national Legislative Committee chair.

"That was where you could see all of the committees are interwoven," she said. "Legislative touches on so many different aspects — it kind of focuses on our children and youth and how we can help our military families, it touches on national security when we help our military, it touches on VA&R when we help our veterans, it touches on Americanism, and if you promote it right, it's also touching on public relations, and if you are doing a really good job and someone sees you are doing a really good job and they go, 'How can I be part of that?', then you have a new member. It encompasses everything."

One ALA committee Williamson said people sometimes shy away from is Constitution & Bylaws.

"I can tell you if anybody ever has any aspirations — to not necessarily be national president — but to be their department president or their district president, I truly believe you have to have C&B," she said. "You need to know that's your standard operating procedure. Those are your rules and your guidelines on how you can operate. I know there have been members who served in president capacities at all levels and are kicking themselves in the rear that they have never served in that capacity prior to being president. It's an important one. Is it a fun one? Not necessarily, but it matters."

Williamson said she likes many ALA activities, including going to National Convention.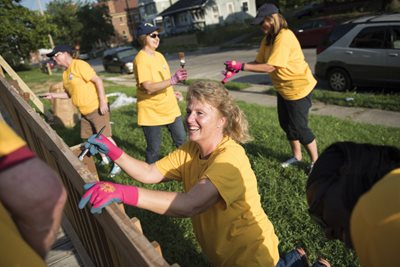 "The American Legion Family service project to me is the bee's knees," she said. "I can remember when we painted a wheelchair ramp — the best thing about that house was that wheelchair ramp."

She said she has gone to as many of the service projects as she possibly can at National Convention and enjoys starting off the weeklong event by lending a helping hand. The annual service project is designed to help veterans or assist the host convention city with a needed project such as cleaning up a park or memorial.

"It puts the whole convention on a great note for me right from the get-go," she said.

ALA's national focus for 2023-2024
A few experiences from people close to Williamson have led to an ALA national focus on preventing veteran/military suicide. Williamson said her focus for the administrative year is surprising to many who know her bubbly personality.

"I know it's not a subject anybody ever thought I would take on because I like to have fun and roll up my sleeves and go do a service project or have fun and go to a ballgame," she said. "But the mission has always been there in my mind, and so I think that maybe because it is so unlike what people think of me, it will make even more of a strong impact because this is not something they see me doing. I could have done something less serious."

Living in Alaska with the shortest day of the year only about seven hours of daylight and being away from family, Williamson said she can see how military members could get depressed in that environment.

"You've got that single soldier who is in the barracks, away from family, in the dark, who has no resources when it comes to mental health — I can see why we have an epidemic for veteran/military suicide," she said.

Additionally, she has a really good friend she met one year when she and her husband, Darrel, went to Mexico. Four years ago, that friend's son died by suicide. There was no indication. The day it happened, he was upbeat and everything seemed well. He died by suicide using a firearm.

"When I'm in Mexico, I go walk every morning and I was walking and thinking about her, and it just came to me: that focusing on veteran/military suicide is what I have to do," she said.

Another story — this one from Williamson's son — solidified her decision.

"My son is in the Guard and his deskmate on one beautiful summer day went to a lovely lake and died by suicide with a firearm," she said. "My son worked across from him and had no indication the kid was struggling."

The No. 1 thing is to destigmatize getting help, she said.

"Especially in the military, you're made to be tough and strong and so you have to suck it up," Williamson said. "It's something that's engrained in them from the very get-go. They think that getting help is making them weak or less of a person or less of a man."

She said The American Legion's Be the One mission is not just the Legion's, but The American Legion Family's with all three leaders — Legion, Sons, and the ALA — focusing on this important issue for this administrative year.

"Just be the one to save one," Williamson said. "All those ones add up. Between three organizations, we are 2.5 million strong. If each one of us helps one, there are 2.5 million we save."

Looking forward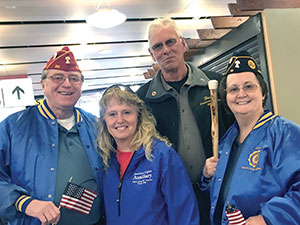 While serving as ALA national president, Williamson said she is excited to be part of the Wreaths Across America caravan from Maine to Arlington National Cemetery, as well as other mission-related events. Additionally, she is very much looking forward to department visits and seeing what they do to help veterans who are struggling with PTSD or mental health. Williamson said she looks forward to meeting members throughout the ALA's administrative year.

As a seasoned member, she offers advice for any new ALA members who may join this year.

"Find someone you can shadow," she said. "Find a friend and get as involved as you want to. Don't get burned out. Don't agree to become president or chair of something right away. Make sure you are pairing yourself up with someone you admire and trust and not someone who is going to take advantage of you. Give it your all, but don't get overwhelmed."

By Sara Fowler, Staff Writer


WORKING TOGETHER TO BE THE ONE
Let's change the narrative. Let's talk about how we can Be the One to save one — rather than the number of those who were successful. The rate of suicide for veterans is more than 50% higher than that of non-veteran adults.

WHAT CAN VETERANS DO?
• Dial 988, the Suicide and Crisis Lifeline.
• Talk with others about how you are feeling.
• Ask for help when you know you need it.
• Know there are millions of people ready to help you.
• Remember that your family and friends care.

WHAT CAN FAMILY AND FRIENDS DO?
• Ask veterans in your life how they are doing.
• Listen when a veteran needs to talk.
• Reach out when a veteran is struggling.
Source: Legion.org