Have you ever heard of a cruciverbalist (kroo-suh-vur-buh-list)? Chances are, you have seen their work or maybe you are one yourself? A cruciverbalist is a designer or aficionado of crossword puzzles. American Legion Family member and U.S. Army veteran Gail Marie Beckman is both a designer and aficionado of crossword puzzles. She is the owner of Custom CrossWords & More and Happenings Media.

Beckman is a Legionnaire at Post 27 in Sandy Valley, Nev. She discovered during basic training that she tested high on the garbled language portion of her pre-entry exam. But her interest in words began long before that.

"When I was a kid, words in general were intriguing to me, not knowing what my future would hold," Beckman said. "In third grade, I thought it was fun to do the third and fourth grade spelling tests, and I began reading Webster's Dictionary and would make flash cards for myself if I got anything wrong in the Reader's Digest Word Power. I thought every family did puzzles daily, until I shared a word game at show-and-tell for the whole class to enjoy. Only the teacher was impressed; the kids — not so much. I suppose I was an original word nerd before the term ever existed."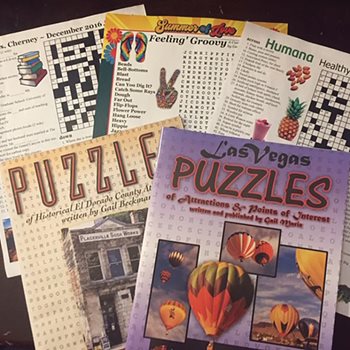 Beckman wrote her first crossword puzzle in 1990 as way to help her fellow cable TV employees improve their spelling. The puzzle was a hit and was sent to 13 other affiliated cable companies. Then requests started coming in.

"Before I knew it, I was asked to write a crossword puzzle all about someone's dad, then for a local restaurant guide, a coupon booklet, and an automotive newspaper, and Custom CrossWords was born," she said.
Personalized puzzles are Beckman's favorite to create. The themes can be about an individual, a couple, family occasions, milestone birthdays, anniversaries, weddings, reunions, and more.

"My all-time favorite is celebrity puzzles," Beckman said. "I saw an interview with Betty White, and she mentioned her name was once in a People Magazine crossword, so I got in touch with her agent to ask if he'd assist in delivering an entire puzzle all about her life in time for her 99th birthday, which he did. I'm happy to be able to provide a unique gift for someone who may have everything. My latest celebrity puzzle was a custom word search which was half The Rolling Stones and half I Love Lucy."

Beckman also receives some unusual or interesting theme requests.

"The most unusual puzzle was a crossword on gastrointestinal diseases," she said. "The most interesting was for a gentleman who hired me to write a crossword puzzle all about his girlfriend and her life, and the bottom line was four words — WILL EWE MARY MI — with oddball clues to throw her off. He had her read it aloud, and she said yes."

Creating puzzles can come with some challenges.

"Occasionally, the words don't easily fall together and I have to walk away for a while, kind of a writer's block," Beckman said. "It will be 32 years in September since I obtained customcrosswords.com when others were saying, 'This worldwide web thing is never going to fly.' To this day, I write both word search and crossword puzzles by hand with graph paper and pencil, set them up in a program, and lay them out using color photos and graphics. Writing my puzzles by hand is my secret way of keeping my mind sharp."

You can commission Beckman to create a puzzle for you by contacting her company at happeningsmedia@gmail.com or (702) 869-6416.