Each year, one ALA Junior member is typically overwhelmed with surprise and excitement when she finds out she's been selected for a national Junior award.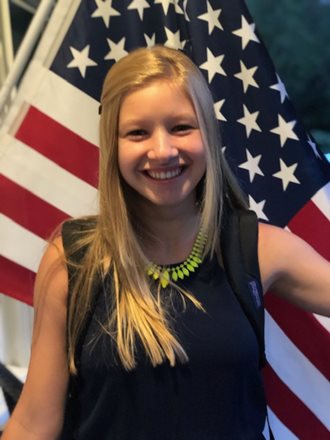 These were the emotions of 17-year-old Junior member Riley Meckley of New York Unit 432 when she learned she was the newest recipient of the American Legion Auxiliary national Junior Member of the Year award.

"After I got over the excitement, I was really honored," Meckley recalled. "I really believe in the mission of the ALA of promoting patriotism and helping veterans."

A portion of Meckley's nomination form read, "her dedication and commitment have been outstanding. She attends monthly meetings, helps with our food drives, plays bingo with veterans, and has collected and delivered food throughout the COVID pandemic to veterans. … Riley believes wholeheartedly in the mission of the ALA as exhibited through her continued service."

Meckley is eligible for ALA membership through her grandfather. Since becoming a Junior member four years ago, she has worked on a few different projects.

She cut coupons for a year and a half totaling $20,000 for military bases around the world. She was nominated for an ALA Good Deed Award for her efforts. She also participates in Operation Paperback where she collects books and donates them to her local U.S. Department of Veterans Affairs facility. During COVID, Meckley helped with food drives for military families.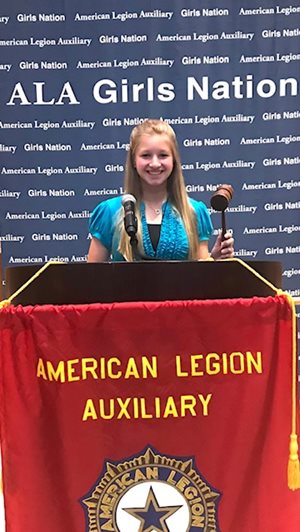 She represented New York at the 74th annual ALA Girls Nation in Washington, D.C.

Meckley has also participated in The American Legion's Oratorical Contest the last two years and has been a New York state finalist.

"It has taught me so much about public speaking," she said. "The improvements I've made from a few years ago help me a lot in other things, like with being my school's class president. It has been very rewarding."

She added she doesn't get nervous about speaking in front of crowds anymore, thanks to participating in the Oratorical Contest.

In August, Meckley had the opportunity to speak from the stage at the American Legion Auxiliary's 100th National Convention in Phoenix.

"No matter if your unit has one Junior member or 50, there will always be opportunities to support the ALA," she told convention delegates. "Today, I would like to acknowledge all the Juniors across this great nation who continue to serve our mission through their own volunteer activities."

Meckley offers advice to other Junior members who want to strive for leadership positions.

"Get involved in as many activities as possible, and go to as many unit meetings as you can," she said.

Meckley is proud to be the first Junior member from her unit and encourages other Juniors to stay involved in the ALA.

"Even though we are Juniors, we still have an impact on the organization," she said. "No matter if you have a lot of Junior members or you are the only one, you can still make a difference."

To nominate a Junior for the ALA Junior Member of the Year Award, unit chairmen must send necessary materials to the national Junior Activities program coordinator via email or postal mail by June 1, 2022. For more information on the requirements for submission, visit www.ALAforVeterans.org. Contact JuniorActivities@ALAforVeterans.org with any additional questions.

By Sara Fowler, Staff Writer