Guest blog post by Marge Christianson, National Junior Activities Committee Western Division Chair, Department of Arizona Unit 62


When I was a kid, I collected trolls. Yes, those ugly orange-haired hard plastic figurines. I had a friend who collected superballs. Who knew there were so many colors and sizes? Even as an adult, I have a collection of colored glass bottles on display.

Studies show that collecting is a great form of stress release; it can impose a little "space of personal order" in what can be a chaotic world, especially to a child. Having somewhere to display the collection, "show and tell" about the items, and simply relax and arrange them (and rearrange them when you get a new one) can be a zen-like experience.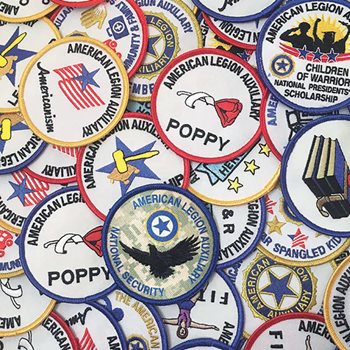 The "collectability" aspect of patches in the ALA Junior Activities Patch Program is a wonderful way to introduce the program to your Junior and young Sons of The American Legion members. Will YOU be the one to inspire your Junior and young SAL members to get started on a collection for a lifetime?

The Patch Program started under National President Sherry McLaughlin in 2001. Together with her National Junior Activities Chair, Penny Maklary, the program started with the idea that teaching Junior members about our organization and its mission is a key element in inspiring Junior members to become active senior members. Additionally, rewarding them for learning about the Auxiliary programs with something tangible would demonstrate their value to the organization.

The program works: starting with one level and just five patches, today it has grown to three levels with a total of 37 patches. Plenty of "collectability" — after all, part of the fun in collecting patches is working toward getting them all!

Of course, the key to sparking any good collection is getting that ever important first one…. And the joy and pride one feels when they've worked hard to earn it, have received it, shared it, and displayed it. So how can you spark your Junior members to collect patches? Here are a few ideas:
Help pick out a patch that each Junior member has a particular interest in.

Do you have a Junior that likes to read? Many of the activities to earn an Education patch entail reading.
Maybe a Junior member attends your meetings or mission/fundraising activities? Many of the Leadership patch activities entail tasks that could be completed during those activities.

Organize a fun group activity.

The Poppy patch lends itself to older Junior members helping younger Junior members learn about and make fun poppy displays, all while each is earning the patch.
Physical fitness patch activities could be earned while wearing off some of the endless energy Junior members seem to possess!
The Children of Warriors National President's patch is earned by donating $5 for each year old the Junior member is. Are there chores at your post home that your Junior members can do together to earn these funds?

Get your fellow program chairmen involved.

Many patches are tied to ALA programs. Ask your program chairmen to make a special effort to ask and include Junior members in their activities — planning ways for them to earn their specific program patch.
Ask your chairmen to make a special effort during their program month (e.g., Americanism month in February) to encourage Junior members to conduct activities for that program.

Get creative on display ideas!

Would your Junior member(s) want to wear their patches? Crafty members could make sashes or vests and offer to sew on (or magnetize) patches as they are earned.
What about a banner to hang on the wall in their bedroom? Or maybe even display it at the post or during your Junior and/or senior meetings?

Plan "show and tell" sessions.

Plan ceremonies for when a patch is earned and presented. Include your program chairmen, your post Family leadership, parents, and grandparents.
Discuss ideas with your Junior members about a "grand" ceremony when they've collected all (or "x" number) of the patches.

Boost their pride.

Include their achievements in your newsletter, poppy letters, web page, and on social media.
Be sure to "tag" your Junior member and/or her family members on social media and include hashtag #ALAJuniors. Share with the national and division Junior Activities Facebook pages!
Send a letter to your Junior member's teacher, parents, and grandparents.
Send a photo and short story to your local newspaper.
I don't have my troll collection anymore, but you can bet I'd still have my patch display had I the fortune of collecting one! That collection would not be of just patches, but the pride and knowledge attained while earning them and the connection made to those who helped me earn them. But it all begins with that first one. Will YOU be the one to inspire your Junior and young SAL members to get started on a collection for a lifetime?
Need help ordering patches for your Junior members? Contact your Department Junior Activities Chair. For other information, check out the Junior Activities page on the National website or contact the National Junior Activities Program.