Working together as an American Legion Family at all levels is important. For American Legion Auxiliary Juniors and Sons of The American Legion, they can work together to serve the mission from early ages.

"Train them at a young age and you will find they will stick with the program even after graduation and want to be in the senior membership," said Starr Purnell, Department of Maryland and 2022-2023 national Junior Activities Committee chair.

Including your post home's Sons members in unit and department Junior events and activities will make a difference for the Family as a whole.

Purnell has worked together with Juniors and Sons in a few different ways, such as joint meetings, participating in the ALA Americanism Essay Contest, putting together care packages, and making cards for veterans.

"Some things we can do together will benefit them," she said. "The ALA Patch Program is a prime example. Every patch, Sons can also earn as well."

The ALA Junior Activities Patch Program is geared toward Junior members and school-aged Sons of The American Legion members. Many families have children involved in both organizations, working alongside each other to earn patches.

"It encourages them to increase their knowledge about what they are learning," she said.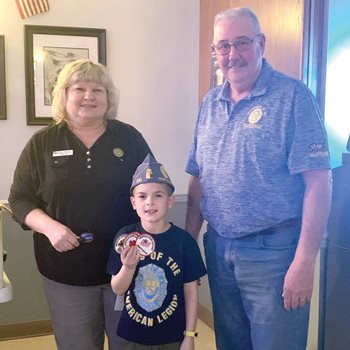 Henry Solich, a Sons member in Maryland, has earned all of his Level 1 patches. There are 11 patches at that level (kindergarten through third grade): Children of Warriors National Presidents', Americanism, Community & Family Safety, Community Service, Education, Leadership, Membership, Physical Fitness, Poppy, Digital Media, and Veterans Affairs & Rehabilitation.

"He was the first Sons in Maryland I know of who put in for patches," Purnell said. "He earned those patches. Last year, we had a graduation for Juniors who moved to senior membership. We asked Henry's grandmother to bring him too, not knowing we would honor him. We gave him a trophy with an eagle head. It was just so awesome! It encouraged him to strive next year."

Participating in the Patch Program is a terrific way to be involved in and learn about the Auxiliary and Legion Family, volunteer in the community, and serve our country's veterans.

"I think we need to do more things together," Purnell said. "We talk about Legion Family, but we don't always do that. I want to see that unity come together. That's what it's about — to live up to that Auxiliary preamble."

Purnell offers advice for other units or departments to include Sons in their Junior events and activities.

"Appoint an adviser who is caring and thinks of our children — somebody who has interest in our young people," she said. "Adjust the program to fit them."

Overall, Purnell said it's crucial to get our Sons involved with the Juniors.

"They can teach us a lot," she said. "I've learned a lot from Sons youth as well. They have the will and initiative."

To learn more about how Sons can be involved in Junior Activities, visit www.ALAforVeterans.org or contact the national Junior Activities Committee at junioractivities@ALAforVeterans.org or (317) 569-4500.