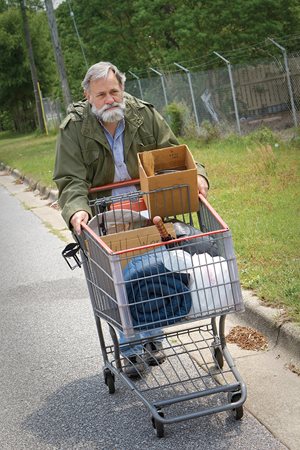 The American Legion Auxiliary has always been committed to enhancing the lives of our nation's veterans — including our homeless veterans. Each year, ALA members find different ways to help in their communities and advocate for ways to address homelessness. Whether you donate money to a veteran-focused organization or volunteer your time to a project that helps homeless veterans, you are making a difference.

With winter right around the corner, veterans living on the street need our help to stay warm and safe. Get your ALA unit together and try one of these projects to help:
Create a "Tree of Warmth" by collecting scarves, mittens, gloves, hats, and socks, and attaching them to a tree in a location the homeless may frequent. Include a sign that reads, "Please take if needed," "Free if needed," or something similar. If you have an old purse you don't use, pack it full of sanitary and hygiene products for homeless women.
Compile "blessing bags" for people in need. Keep the bags in your car to distribute when needed, or donate to the local police department or other organizations that help the homeless veteran population. Use gallon-sized food storage bags to keep everything together in one place for easy access. Some items to include are handwarmers, bandages, baby wipes, tissues, hand sanitizer, granola bars, and travel-sized hygiene items such as deodorant, toothpaste, toothbrush, lotion, etc. You can also add contact information for your Auxiliary unit and the U.S. Department of Veteran Affairs crisis line.
Donate clothes, socks, hats, and blankets to local homeless shelters. Go through your closet and put everything you don't wear anymore in a tote to donate to a shelter. They will be grateful for your gently used items, which are even more necessary during the cold winter months.
Lead a holiday gift drive. The holiday season is all about giving — enlist your friends, co-workers, family, classmates, or social media connections in a campaign to raise money or donate items to homeless shelters. Ask the shelter beforehand what items are most needed. You can post information about your gift drive on social media to help raise awareness.
Contact homeless veteran emergency shelters, transitional housing projects, and permanent housing projects in your community and identify the organizations' volunteer and in-kind contribution needs. They may need help with meal preparation and serving, clothes collection and distribution, assembly and delivery of hygiene kits or buddy baskets, and purchasing or securing household items or furniture.
Help homeless veterans find support near them through the VA's Veterans Crisis Line. The crisis line is a free, confidential resource that's available to anyone. The responders are specially trained and experienced in helping veterans of all ages and circumstances. The Veterans Crisis Line is 1-800-273-8255. Press 1 to get connected. For more information, visit www.veterancrisisline.net.
Do you have additional ideas to help homeless veterans?
We'd love to hear from you!
By Alexa Freeman, Staff Writer