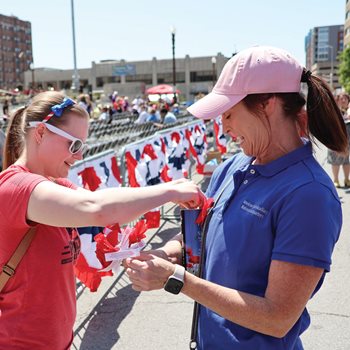 Veterans Day — Nov. 11 — is a great opportunity for ALA members to fulfill our mission of supporting veterans, the military, and their families. Below are numerous ways to extend your sincerest thank-you to those who served so selflessly and courageously.

AT YOUR POST/UNIT HOME
• Attend a Veterans Day event or parade representing your unit — there are parades all over the country; find the closest one to you!
• Organize a care package packing party. Invite your friends, ALA Junior members, unit members, and their families to get together for this activity. Popular items to include are necessities such as sunblock, socks, underwear, flip-flops, lip balm, and powder. Snacks, including chips, salsa, nuts, cookies, beef jerky, non-melting candy, and trail mix in packaging that isn't easily crushed are also ideal. Drink mixes in single-serving packets are also a good addition. When you're ready to send, check out ALA member benefits provider Ship Thrifty to begin shipping hassle-free. Go to www.shipthrifty.com/rf/ALA or use code "ALA" at sign-up.
• Conduct a mission-oriented service project. Your unit can show appreciation for veterans and servicemembers by hosting a pitch-in. Team up, collect items for care packages from your community, or prepare meals and drop them off at a veterans home or a VA facility.
• Volunteer your ALA unit to participate in a stand down. Typically a one- to three-day event, stand downs provide supplies and services such as food, clothing, shelter, and health screenings for homeless veterans. The veterans can also receive referral services for substance use treatment, mental health counseling, housing solutions, and health care. For more information, visit www.va.gov/homeless/events.asp.

IN YOUR COMMUNITY
• Wear a red poppy to honor the heroes who have fallen and the servicemembers who are continuously fighting for our freedom. Red poppies are worn to show support for the armed forces community, those currently serving, veterans, and their families.
• Visit local schools. Have a veteran from your post/unit visit your local schools to explain Veterans Day or conduct a ceremony at the school. Encourage your Junior members and Sons to make cards to thank veterans for their service, etc.
• Visit a local U.S. Department of Veterans Affairs facility and spend some time with a veteran. Many VA locations will host special activities and events on Veterans Day. If you don't have a VA facility near you, contact an assisted living center or nursing home nearby.

WITH YOUR WALLET
• Donate to a cause that helps veterans. Every dollar helps. Even a small donation is money well spent to support our nation's heroes. Consider donating to the American Legion Auxiliary Foundation to support veterans, military, and their families.
• Support veteran-owned businesses. It is estimated that 2.5 million U.S. businesses are owned by veterans. A list of veteran-owned businesses can be found at the American Veteran Owned Business Association. Visit www.avosba.org to find your state and county's veteran-owned businesses to support.
• Pick up the tab. If you see a veteran in line at the coffee shop or out at a restaurant, pay for their drink or meal. Those serving them are more than happy to bring you the check, and it's a nice surprise to honor these heroes for their service.

ONE ON ONE
• Don't forget to always thank veterans for their service. It is a simple gesture, but it can make a huge impact. And whenever you see someone in uniform, take the time to show them your appreciation for everything they have done for our country.
• Make it personal. If you know a veteran, ask them what they need. Transportation to and from community activities on Veterans Day is one idea. They might like for you to drop off or pick up their mail, stop by the grocery store for a few things they need, or mow their lawn. If they are reluctant to share a need, feel free to ask a friend, caregiver, or loved one how you could meet a need. Whatever you commit to, make sure you deliver on your promise that day or the next few days.