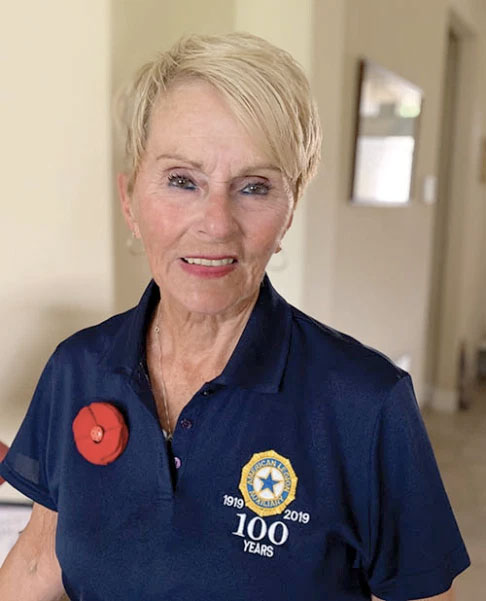 "Part of my motivation is knowing I am part of one of the greatest volunteer organizations in the country …."
As a young girl, American Legion Auxiliary member Carole Baldwin didn't quite understand why her father, World War II U.S. Army veteran William R. Vernotico, sometimes went into rages. Baldwin didn't understand the fury that would occasionally erupt in her father, at times resulting in him tearing up the house and doing "other things," she explained.
She remembers her dad talking about being shell-shocked, but she thought that meant an artillery shell exploded near him.
"It wasn't until my father passed away at 62 years old — and I joined the American Legion Auxiliary — that I realized he suffered from PTSD that was never diagnosed or treated. This realization broke my heart," said Baldwin, of ALA Unit 28 in Millsboro, Del.
"As an ALA member, I learned about veterans' issues and rehabilitation. And, I met other veterans who may have gone through similar things my father did after he returned home from war. All of this became my reason and my passion for recognizing, honoring, and helping veterans, military, and their families," she added.
What does your ALA membership mean to you?
My membership honors the military service of my father and his fellow veterans.
Why is it important to support and honor America's veterans, military, and their families?
Our veterans and military have protected the citizens of the United States and our way of life. It takes enormous courage, deep commitment, and a bravery that most of us will never comprehend. Gaining perspective and understanding of what our veterans experienced helps us appreciate more fully the sacrifices they made for all of us. Relatives of servicemembers and veterans need to be recognized and supported, too. They serve along with the military personnel or veteran in their families because they also sacrifice a lot.
As an ALA member, what keeps you motivated?
Part of my motivation is knowing I am part of one of the greatest volunteer organizations in the country, and that I give back to veterans, military, and their families in some small way. Also, I get to meet ALA members from all over the world. I witness greatness, commitment, and dedication that I am so very honored and proud to be a part of!
What is one of your favorite ALA mission-oriented activities or outreach programs?
I love our VA&R (Veterans Affairs & Rehabilitation) program and related activities and outreach. One of my favorite events is the annual National Veterans Creative Arts Festival, which is co-presented by the ALA in partnership with the U.S. Department of Veterans Affairs. NVCAF features creative works — such as paintings, leatherwork, writing, dance, music, and theatrical performance arts pieces — done by veterans who are being treated at VA facilities. They create their art as forms of expression, rehabilitation, and treatment to help them recover and cope with physical and emotional challenges. The national festival lasts a week and includes exhibits and a live stage show for these talented artists and performers. I attended NVCAF when it was held in Buffalo, New York. The live stage show moved me to tears; it was an experience that will forever stay in my heart and soul!
Do you have advice for new ALA members who might feel a bit overwhelmed by the different things the ALA does for veterans, military, and their families?
Take it slow. Get to know your fellow unit members and officers. Volunteer when you can. Educate yourself on the programs, one at a time.
AMERICAN LEGION AUXILIARY UNIT:
Unit 28 in Millsboro, Del.
ELIGIBILITY THROUGH:
World War II veteran William R. Vernotico, father (U.S. Army)
YEARS IN THE ALA:
16 years
ACTIVITIES:
Unit 28 President (Millsboro, Del.) 2008-2011
Department Historian (Delaware) 2010-2011
Eastern Division Poppy Chairman 2014-2015
Eastern Division Community Service Chairman 2016-2017
Eastern Division VA&R Chairman 2017-2018
Eastern Division Leadership Chairman 2018-2019
Eastern Division Children & Youth Chairman 2019-Present