A unit that 18 months ago was inactive now is forging strong community partnerships, coordinating a variety of activities — and setting the pace for growth in its state.

Texas Unit 511's membership stands at 67 today, up from 27 in July. But things were different when Kimberly Wheeler, whose brother is an Army veteran, attended an informational meeting about the Dallas-based unit in January 2022.

The unit then was a group of 13 who maintained their membership through online dues. Members hadn't actively worked toward organizational goals supporting veterans, military, and their families in five years.

Following that meeting, Wheeler and the other nine people in attendance joined Unit 511. In the summer, Wheeler became unit president.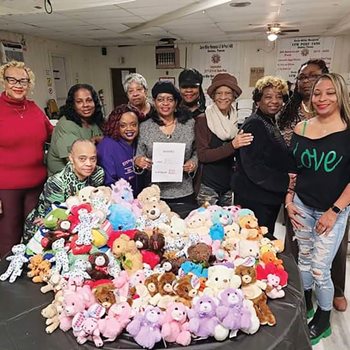 Since then, Unit 511 has organized a flurry of events and programs. In activities like a school supply giveaway, cancer awareness walk, Thanksgiving basket distribution, and Christmas toy drive, members have rallied support from other veterans organizations and community groups to advance a variety of community causes.

Wheeler says this commitment to activity has helped turn a once-sleepy unit searching for new members into a growing group that now has people proactively asking how they can join.

What inspired you to join the American Legion Auxiliary?
Sharon Shumate, the [Texas 5th] district president, shared the mission and vision of the American Legion Auxiliary. You could hear her passion about helping veterans, families, and the community. My brother was in the service, and I'd just never thought about the things servicepeople go through. I felt like this was something I wanted to be a part of, to give back through something that's very meaningful.

What are some examples of the community support your unit has provided through its recent activities?
Our first big service project was a back-to-school bash. We [gave] 100 backpacks full of school supplies to veterans, their children, and children in the community. … Another one of our big projects was to organize a walk to raise money for the MD Anderson Cancer Center in Houston. Members and friends of members raised more than $500.

We've built a partnership with a school called Multiple Careers Magnet Center, which is a school [in Dallas] for students with disabilities. We participated in its Veterans Day parade and went to the school to talk to students about why to say no to drugs.

How has organizing a variety of activities helped in increasing your unit's membership?
We have a membership drive with every project, and we have partnerships with schools and in the community. A lot of people thought there was nothing going on, but then they see us working on projects like putting toiletry bags together for homeless women veterans or soliciting turkeys for the turkey drive.

Once they see that, they feel that this is a good cause. I will go to the [American Legion] post after work, and there may be someone sitting there with their membership application and money. It just brings tears to your eyes.

What lessons have you learned that other units can apply to their own efforts to build membership?
I'd say make sure you're visible. Make sure you have literature out about the organization and can explain it. I also think just making sure you encourage every member to use their strengths is important. You can't do it all by yourself, and you want to make sure you make every member feel valuable.

Also, it's important to have constant communication. Many times, members can't come to an event. But we make sure they are aware of what's going on by having a group text or email, and they share ideas. They joke with me all the time that they may receive five emails from me in a day.

We are in a large, urban area, so we can attract more members, maybe, than a rural area. But continue to utilize those members you have, and someday you know your membership will increase. Don't ever give up.