The American Legion Auxiliary has a long history of organizing care package drives to show support for military servicemembers deployed abroad. These care packages serve as a reminder of home and provide comfort during long deployments away from family.

As many ALA members know, these care package drives can often be time consuming and expensive. The process of organizing volunteers, securing donations, and packing boxes can take unit members weeks, only to lead to hours of filling out customs forms and standing in line at the local post office. On top of the hours spent successfully completing a troop care package drive, units can often spend thousands of dollars on shipping.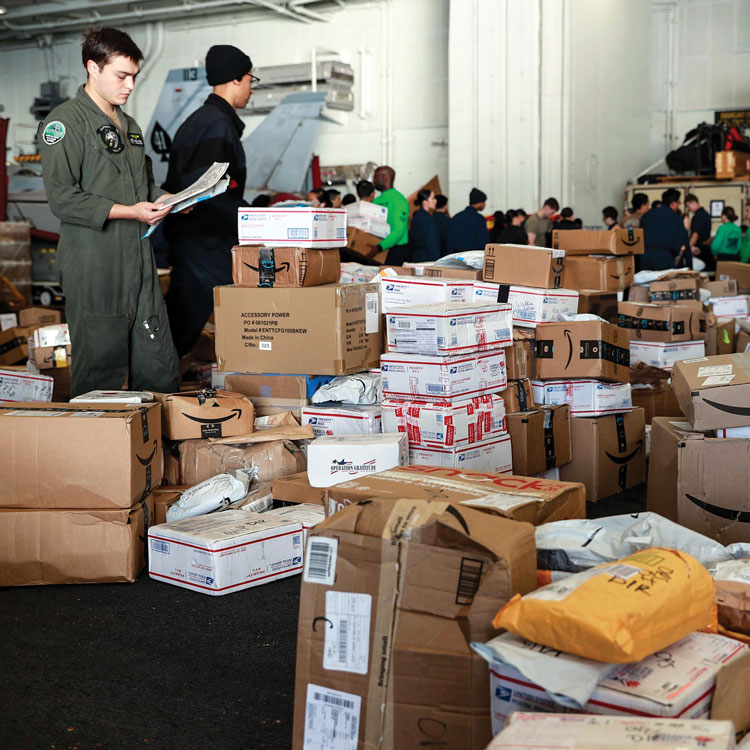 MAIL CALL: Sailors sort mail in the hangar bay aboard Nimitz-class aircraft carrier USS Abraham Lincoln (CVN 72) during a replenishment-at-sea (U.S. Navy photo/ Mass Communication Specialist Seaman Kassandra Alanis).
Luckily, the ALA has partnered with a company that is enthusiastic about making the shipping process as hassle-free as possible and shares our passion for helping veterans, military, and their families. Michelle and Rob Williamson launched Shipthrifty after both left corporate careers and heard from a friend about the difficulties of military shipping. Shipthrifty quickly began partnering with organizations such as Blue Star Mothers and Military OneSource, giving back to the community by volunteering time at care package events, and donating a portion of proceeds to help military families.
Shipthrifty began partnering with the ALA in October 2021 and has worked with multiple individuals and units to save time and money. Thanks to Shipthrifty, Department of Minnesota Unit 150 was able to save over $3,000 on shipping for their troop care package drive by simply changing out boxes. Not only is Shipthrifty saving ALA members money, but also time — Department of Pennsylvania Unit 506 was able to box and label their care packages in only two hours because of Shipthrifty's online customs forms!
Is your unit interested in starting, or improving, a troop care package event? Here are some tips from the experts at Shipthrifty:
Set your timeline: Keep in mind delivery times around the holidays.
Determine your budget: Will you ask for donations? Think about product, shipping, and materials.
Find servicemembers: You must ship to specific individuals, so collect addresses from the community.
Pick your box: Not all boxes are the same!
Consider restrictions: There are restrictions on what you can send, and they vary from base to base.
Create and attach labels: Shipthrifty makes this process easy with their online tools.
Know your dropoff options: You can drop off packages or schedule a USPS pickup.
Are you wondering what the servicemember in your life may want? These items are always a hit:
Drink mix packets like water flavorings, cocoa, tea, and apple cider (note — coffee is restricted in some areas).
Pre-packaged, individual-size healthy snacks like protein bars, nuts, seeds, dried fruit, or beef jerky.
Non-perishable, pre-packaged food and sauces.
Pre-packaged, individually wrapped candy, cookies, and chips.
Hygiene items like toothbrushes, toothpaste, floss, roll-on deodorant, baby wipes, and feminine hygiene supplies.
The ALA and Shipthrifty have partnered to provide you with tips and tricks to make your event a success. Visit
www.ALAforVeterans.org/troop-care-packages
or
www.ALAforVeterans.org/Shipthrifty
to see more care package drive advice.