The holidays are just around the corner and now is the time to prepare packages for sending to servicemembers overseas.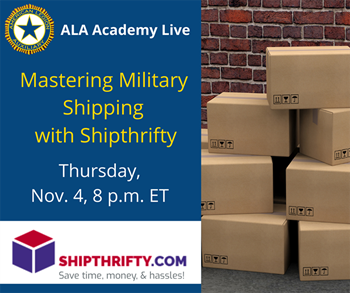 For American Legion Auxiliary members, it's part of our own personal mission to make sure our troops are happy during their time away from home. We send them care packages filled with comfort items to make being "over there" a little more joyful. In this upcoming FREE webinar, Shipthrifty will walk us through the process of sending pieces of home to our military — and without the fuss that can accompany a busy time of year.

Shipthrifty, the American Legion Auxiliary's newest member benefits provider, shares our passion for veterans, military, and our families. When a friend of cofounders Rob and Michelle Williamson was deployed, they learned just how complicated shipping items to our heroes can be. There has to be an easier way, they thought, and so they decided to do something about it. The team learned the ins and outs of military shipping and created tools built to make shipping easier and the process simpler.

Shipthrifty is all about:
Saving time — skip the lines and ship from anywhere. Drop packages off at carrier locations or schedule a pickup.
Saving money — sign up for a free account and save with major carriers. Pick the options that are best for you with no hidden fees.
Hassle free — web-based and works with any printer. Built-in features guide you through the steps to do it right.
From the American Legion Auxiliary, Education Committee Chair Melanie Taylor will be leading the webinar with insight from her personal experiences in shipping items to military members.
Her husband was in the U.S. Navy for 32 years and was sometimes deployed. Her son and granddaughter both served active duty overseas. At various times, all received care packages. In her ALA unit in California, there's a group of women who are mothers of military personnel who formed a group and sent care packages. This is how Taylor first got involved.
"It's really involved and very time consuming, but a very much-loved project," she said.
Taylor is looking forward to sharing her experiences in the webinar.
"I think it's wonderful we are doing this webinar," she said. "We need to eliminate some of the stress. I'm glad Shipthrifty and ALA National Headquarters have come together to help our members."
Partnering with Shipthrifty will help save members time and save money.
Taylor said she believes all members should sign-up for the webinar, from grassroots members all the way to those who serve at the national level.
"I hope members take away how easy it is to use Shipthrifty," she said. "They are going to provide us with the how to's. It will be easier on ALA members and the postal service."
Mastering Military Shipping with Shipthrifty
Thursday, Nov. 4, at 8 p.m. ET
Snapshot view of what participants will learn in this webinar:
Meet your newest ALA member benefits provider — Shipthrifty — and how they can help you with all of your shipping needs this holiday season.
Learn the ease of shipping with Shipthrifty, focused specifically on military care packages.
Sign up today! Register
here
.