Guest blog post by 2022-2023 National Americanism Committee Chair Michele DeGennaro

Although not a national holiday, Flag Day is for all Americans to reflect on our nation's freedom, rededicating their loyalty to our country, and the beliefs of justice and democracy. Celebrated every year on June 14, Flag Day has been observed for over a century.

The American flag was adopted by Congress on June 14, 1777, as the official flag of the United States of America, but it wasn't until 1885 when Bernard Cigrand, a small-town teacher from Wisconsin, originated the idea to celebrate our nation's flag across the country every June 14.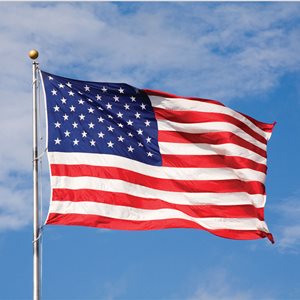 By 1907, celebrations were happening in communities across the nation, yet it would take time before the first Flag Day was officially observed with a proclamation signed by then-President Woodrow Wilson on June 14, 1916. Still not an official holiday, it would take another 33 years until President Harry Truman signed legislation proclaiming June 14 as Flag Day.

"Our flag displays unity, teamwork, and camaraderie, and it's the day we should reflect on all those who have sacrificed and brought us together," said American Legion member and retired Navy Master Chief Mack Ellis of what Flag Day means to him and how his family honors the occasion. "Be nice and try to unite the country we live in."

Ellis is sought after not only on Flag Day but throughout the year to perform My Name is Old Glory. Composed by Marine Howard Schnauber who served during World War II and the Korean War, Ellis believes "there is great value in keeping the memory of our flag and all it has encountered alive in people's hearts and minds."

Many Americans honor this day by displaying the American flag at their homes, gathering for community celebrations and parades, promoting school essay contests, or with quiet reflections of those who gave so much to defend our flag.

The flag of the United States of America was first carried into battle on Sept. 11, 1777. The American flag, Old Glory, Stars and Stripes, or Star-Spangled Banner, our country's flag goes by many nicknames. Its look has also changed over the years, but the one fact remains — through wartime and peace, our nation's flag has stood and will always stand as a symbol of freedom and liberty. American Legion Auxiliary members understand the freedom this flag holds for all Americans as they proudly support the flag every day.

Hear Master Chief Mack Ellis perform Old Glory.

MY NAME IS OLD GLORY

Composed by Marine Veteran Howard Schnauber

I am the flag of the United States of America.
My name is Old Glory.
I fly atop the world's tallest buildings.
I stand watch in America's halls of justice.
I fly majestically over great institutes of learning.
I stand guard with the greatest military power in the world.
Look up and see me.
I stand for peace, honor, truth, and justice.
I stand for freedom.
I am confident, I am arrogant, I am proud.
When I am flown with my fellow banners, my head is a little higher, my colors a little truer.
I bow to no one.
I am recognized all over the world.
I am worshipped. I am saluted. I am respected.
I am revered. I am loved and I am feared.
I have fought every battle of every war for more than 200 years: Gettysburg, Shiloh, Appomattox, San Juan Hill, the trenches of France, the Argonne Forest, Anzio, Rome, the beaches of Normandy, the deserts of Africa, the cane fields of the Philippines, the rice paddies and jungles of Guam, Okinawa, Japan, Korea, Vietnam, Guadalcanal New Britain, Peleliu, and many more islands.
And a score of other places long forgotten by all but those who were with me.
I was there.
I led my soldiers — I followed them.
I watched over them.
They loved me.
I was on a small hill in Iwo Jima. I was dirty, battle-worn, and tired, but my soldiers cheered me and I was proud.
I have been soiled, burned, torn, and trampled on the streets of countries that I have helped set free. It does not hurt, for I am invincible.
I have been soiled, burned, torn, and trampled on the streets of my country, and when it is by those with whom I have served in battle, it hurts.
But I shall overcome, for I am strong.
I have slipped the bonds of earth and stand watch over the unchartered new frontiers of space from my vantage point on the moon. I have been a silent witness to all of America's finest hours.
But my finest hour comes when I am torn in strips to be used as bandages for my wounded comrades on the field of battle, when I fly at half-mast to honor my soldiers, and when I lie in the trembling arms of a grieving mother at the graveside of her fallen son or daughter.
I am proud.
My name is "Old Glory."
Dear God, long may I wave.