Wearing apparel emblazoned with the American Legion Auxiliary's name and emblem is a great way to raise awareness of the ALA brand in your community — or to get people curious enough to ask about our organization. Most ALA members have mastered this traditional marketing technique.

ALA members can build on that success and find additional ways to get our name, emblem, and website address in front of the public. Don't toss out your ALA branded shirts, jackets, hats, and accessories. Wearing or carrying these in public, especially at community-wide ALA events and activities, is still an effective marketing technique. But it is time to do other things too, taking our marketing to the next level to boost brand awareness in the communities we serve.

Let's face it: There are other veterans support organizations out there. We must introduce, and in some cases, re-introduce, the ALA to the public. We need to show who we are, what we do, and what makes us different from other veteran auxiliary groups. In many cases, that starts with the public knowing and understanding the Auxiliary's brand.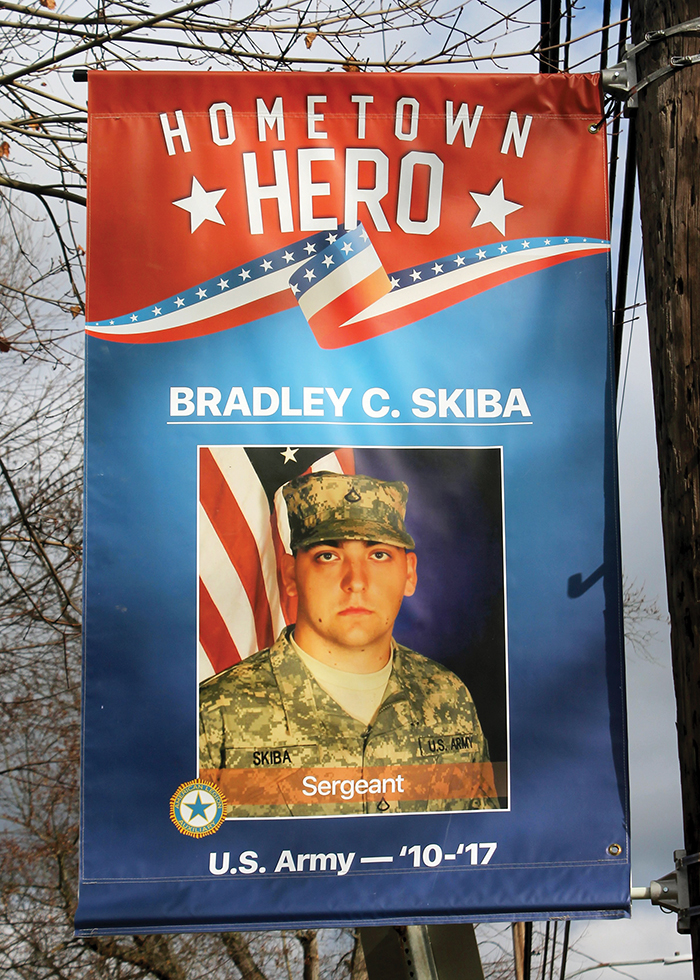 As it is aptly stated in the
ALA Branding Guide
: "Our brand is our identity. It's our reputation, our promise. It's how the public recognizes us. It defines who we are — a community of volunteers serving veterans, military, and their families."
ALA member Sue Williams of Unit 535 in Salamanca, N.Y., explained why the extra effort is needed to get the Auxiliary's brand out in the community.
"If people don't see what we do and how much we do, we won't get any of the backing — volunteers, donations, and new members — we need to help our veterans. We should try to get our names out in front of the public any way we can," Williams said.
Unit 535 employed a simple and smart way to get ALA's brand out there while honoring veterans. In working with a local government agency and other community volunteers outside of the ALA, the unit embarked on a "Hometown Heroes" banner project. Each of the hundreds of banners have the ALA's emblem beneath a photo of the veteran being honored, along with the person's military branch of service, and other basic info and patriotic decor. The banners are displayed on the community's utility poles, along streets with lots of traffic, from Memorial Day to Veterans Day. This directly links the ALA with one of our mission-driven efforts to honor and support those we serve.
Paying tribute to veterans in this way is fantastic. And from a branding perspective, think of how many people will see the ALA logo for several continuous months. Consciously or subconsciously, a positive association between the Auxiliary and honoring veterans will be made in the minds of many who see the banners.
Another plus of making the ALA more visible to the community: Seeing our emblem often might eventually prompt some people to seek more information about the Auxiliary. Others might decide to join the ALA.
That was the case with Unit 535's "Adopt a Platoon" project. Williams said the project received coverage in local and regional newspapers.
"One lady contacted us and said, after reading about our Adopt a Platoon project, she decided she wanted to be part of the American Legion Auxiliary. She joined our unit and has been a member here for the last three years," Williams added.
Be creative! Come up with additional ways to build ALA brand awareness in your community. Be sure to consult the
ALA Branding Guide
, an easy-to-follow publication offering important information on topics such as branding styles, key promotional phrases for the Auxiliary, and proper use of the ALA emblem. Plus, there are guidelines and best practices on photography, websites, social media, and more.
Download a copy of the Branding Guide today by visiting
www.ALAforVeterans.org
.
This article was originally published in the February 2021
Auxiliary
magazine.