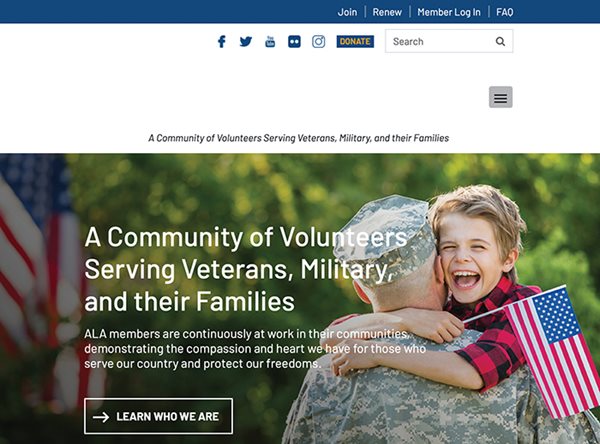 American Legion Auxiliary National Headquarters wants to make sure every member is informed and updated. No matter the form of communication you prefer, our goal is to make it convenient for you. Our multiple platforms provide useful information to ALA members, as well as the public.

Auxiliary magazine

Our main communication tool with the largest reach is Auxiliary magazine. This quarterly publication, mailed to 615,000 addresses, features ALA members and units doing great work, highlights national ALA events, includes tips and tools to help you serve veterans, military, and their families, and offers several other ALA-focused articles. Save copies of your magazines and look back when you need tips on membership, fundraising, service projects, etc., or visit the archived issues at www.ALAforVeterans.org.

In between each magazine are digital platforms to keep you connected on an even more timely basis. Following ALA media online allows you to find out about virtual meeting and learning registrations as soon as they are announced, giving you plenty of time to save the date and sign up before spaces are full. These types of announcements are also easy to share with others through email or on your own social media accounts.

ALA eNews
This newsletter is published on the second Wednesday of each month and delivered by email. ALA eNews includes new information you need to know about the ALA, dates and registration links for ALA Academy Live webinars, resources available, valuable member benefits, and much more. If you're not already subscribing to ALA eNews, go to the about us tab on www.ALAforVeterans.org, and under our communications go to ALA eNews. Click on any issue of eNews, and find the "join our email list" at the top of the page.

ALA blog
The ALA blog is where you can find quick and easy reads. The blog contains original content like announcements and guest blogs, as well as stories that complement what you've read in Auxiliary magazine. Some things you can find on the blog include stories on inspiring members, ideas for working American Legion Auxiliary programs, and much more.

Social media
A great place to keep up daily on what's happening with the Auxiliary, following us on social media is how you'll discover what's new on the blog, be among the first to know about webinars and meetings, and learn about everything new to the ALA. We have active social media accounts on Facebook, Twitter, and Instagram. To connect, search for @ALAforVeterans.

We also have Facebook and Instagram accounts for our Junior Activities program (@ALAJuniors) and ALA Girls Nation (@ALAGirlsNation), as well as Facebook pages for the ALA national president (@ALANationalPresident) and the National Veterans Creative Arts Festival (@NVCAF).

Another useful place for ALA-related information is our many Facebook groups. Each ALA national committee has a group. These forums are great resources to learn more about a particular ALA program, ask questions, and interact with other members, including national committee chairmen. You can find these groups by visiting National Headquarters' Facebook page (@ALAforVeterans).

www.ALAforVeterans.org

On the newly redesigned ALA website, you'll learn more about our organization, programs, and history. You can also find links to all of the digital media previously mentioned, as well as archived issues of Auxiliary magazine. A new feature on the ALA website is MyAuxiliary, a portal just for members where you can pay your dues, find in-depth information about ALA programs, download forms, and much more.

This article was originally published in the February 2021 Auxiliary magazine.