By Sara Fowler, ALA National Headquarters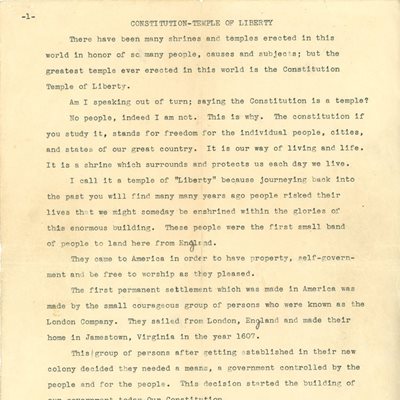 ​My dad handed me the yellowed, stapled papers and told me my parents found them while going through my grandma's things. She's in a nursing home now and nearly 92 years old, so my parents were just trying to prepare some things ahead of time.

I stared at the delicate papers — which had clearly gone through a typewriter — as I sat at the kitchen island at my parents' house. Kids were running around and other adults were talking, but I zoned in on the words written on the pages before me.

Turning a crinkled paper to the second page, I couldn't believe it was my grandma who had written this. I'd always known her as Bonnie Worden, the homemaker — the cooking, cleaning, taking-care-of-everyone grandma — not the speech-writing version of herself.

By the end, I was genuinely surprised by what I'd read. It truly made me see my grandma in another light.

The speech was what she had researched and written for The American Legion Oratorical Contest at the local level, which would have been the Bluffton, Ind. area. Since 1938, the contest has developed knowledge and appreciation for the U.S. Constitution among high school students.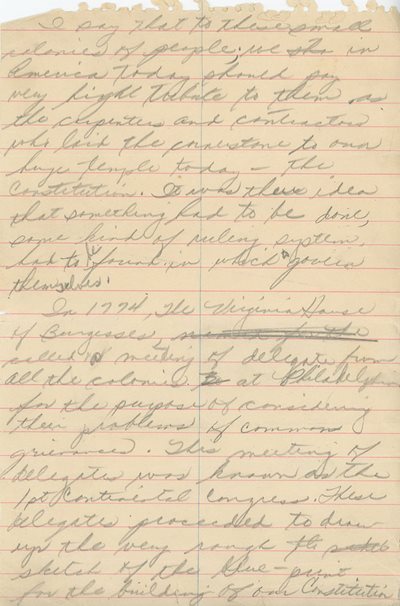 Along with the typewritten speech, my parents also found my grandma's handwritten notes for the speech … in cursive. Side note: I love cursive, I can read cursive, and I wish I kept up with writing in cursive now that I'm in my 30s — but, I digress. She wrote 10 pages of her speech by hand before typing it up. To have these notes in her own penmanship truly means a lot to me. The folded pages were likely once in her pocket, notebook, or bookbag. They truly make me feel so close to my grandma, even when she is a few hours away.

Stapled to the back of the speech is a small newspaper clipping documenting her participation: Bonnie Lee Huss, of Lancaster Central, was awarded fourth place in the district contest. I'd love to find out which newspaper it came from so I could have the exact date it was published. Adding to my to-do list now…

Since I work at the American Legion Auxiliary National Headquarters, my parents thought I would be interested in having the speech. That's a hands down "yes" for me!

Who knew my grandma would give this speech in the 1940s, and decades later in 2017, I would accept a job with ALA National Headquarters, unknowingly already having an association to The American Legion Family?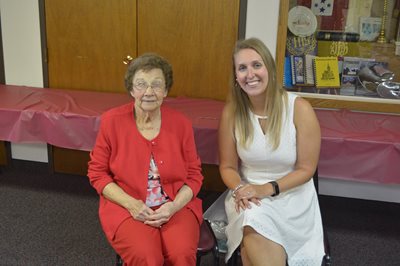 Seeing this speech made me realize that in addition to this tie to the Legion Family, my grandma and I have also had a connection all these years that I didn't even know about — writing. I've loved writing ever since I can remember and have always known it would be a part of my career someday. Reading this four-page speech that is part of my grandma's history makes me even more proud to be working for our veterans, military, and their families.

I'm so thankful my parents found this piece of my grandma's history, and now my history too. To find out I've had these unknown bonds with my grandma — writing and the Legion Family — is truly surreal. I have to believe there is a reason for it.

Life sure comes full circle sometimes, doesn't it?