Promote patriotism this Independence Day with fun and creative crafts for all ages. You can make these decorations on your own or ask your children, family, and friends to assist. Try working with your local Auxiliary unit to implement an arts and crafts time, and don't forget to ask Junior members to join in on the fun! While crafting these July 4 decorations, re-educate all members on the incredible significance of what this day means — the birth of American independence.

PATRIOTIC MASON JARS: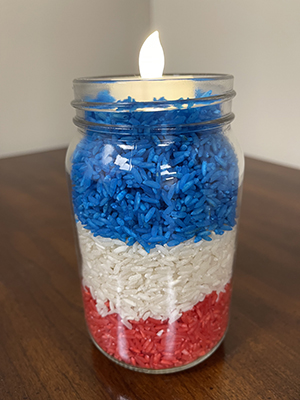 Looking for an easy and creative way to spice up your Fourth of July decorations? These patriotic luminaires are fun to make and aesthetically pleasing. The jars are great table decorations and can be used year after year for all patriotic festivities. (Source)

Materials needed:
Pint- or quart-sized Mason jar(s)
White, long-grain rice (not instant)
Blue and red food coloring
Rubbing alcohol
Ziploc baggies
Votive, tealight, or tapered candle(s)
Paper plates or wax paper
Instructions:
Pour your rice into three different Ziploc baggies.
Add a few drops of rubbing alcohol inside with the rice.
Squeeze several drops of food coloring into the baggies. Add more food coloring if you want your rice to be a darker, more intense color.
Seal your baggies closed and mix/shake the food coloring and rice around.
Once the rice is fully glazed, pour it onto a paper plate or wax paper and spread out to dry.
Let rice dry.
Once your rice is ready, scoop the red rice into your mason jars first, followed by plain white rice and then blue rice. Use about ½ to 2/3 cups of rice for each layer into pint jars or use about 1 to 1.5 cups into the quart jars.
Lastly, place your votive or tealight candle on top of the rice, and voila!
How to use patriotic Mason jars for Independence Day festivities:
As table décor — these jars are great on their own, arranged together, or in a line. Use them at your Fourth of July party for creative decorating.
As luminaires — brighten up a room or walkway for an aesthetic and artsy look.
As a miniature flag holder — instead of candles, place small American flags in the rice to incorporate even more Americanism.
As a food/drink label holder — instead of a tapered candle, use a popsicle stick to write the food or drink that is on display.
RED, WHITE, AND BLUE WINDCATCHER:
This budget-friendly craft requires only a few materials and leaves virtually no mess — win, win! These patriotic windcatchers are easy to make and offer a unique way to spread Americanism. Make them for your home or American Legion Family post home, or give one to a veteran in your life. (
Source
)
Materials needed:
Blue plastic cups
Hole punch
Red and white ribbon
White star stickers
A pipe cleaner
Directions:
Use your hole puncher to punch holes along the rim of a blue cup, making around 12 holes.
Cut six long strips of red ribbon and six long strips of white ribbon to decorate each cup.
Thread the ribbon through the hole punches, switching between white and red ribbon. Pull ribbon through.
Tie ribbon tight.
Decorate your blue cup with the star stickers.
Poke a hole in the bottom of the blue cup (which is the top of wind chime) and put a pipe cleaner through to hang the decoration.
Dangle the windcatcher outside for a festive finish, or wave it around during an Independence Day parade.