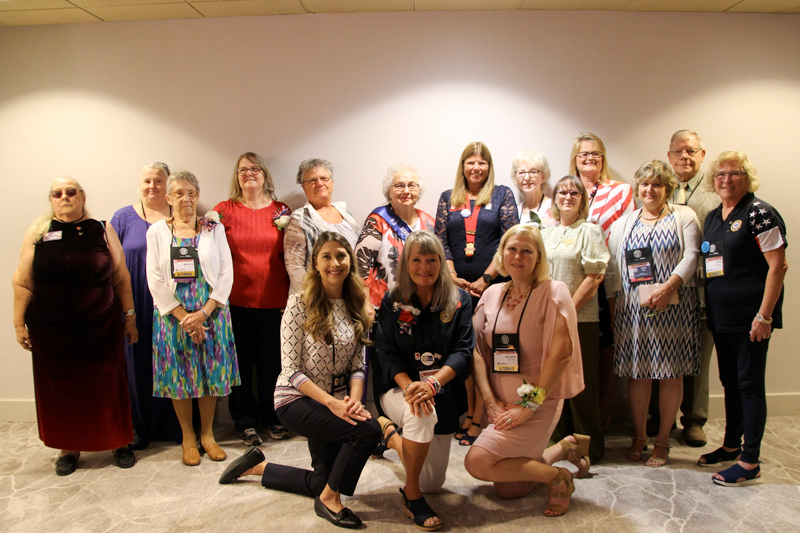 2022 ALA Unit Member of the Year winners
The ALA Unit Member of the Year Award recognizes those serving at the unit level who exemplify the values and ideals of the Auxiliary and whose accomplishments significantly impact the program work in their units.
Kubiak's ALA membership was made possible in August 2019, when Auxiliary membership was extended to male spouses of veterans, living or deceased, whose military service made them eligible to become Legionnaires. If the veteran spouse is living, he or she must be an American Legion member in order for the spouse to join the ALA. Kubiak is eligible for the ALA through his wife, Shirley. Read more about the Kubiaks on page 52 of
Auxiliary magazine.
Departments nationwide are proud to honor this year's 2022 ALA Unit Member of the Year recipients for going above and beyond when it comes to serving our nation's veterans, military, and their families:
Alabama: Evelyn "Rene" Schoetzow; Alaska: Connie Landmesser; Arizona: Lisa Ruggiero; Arkansas: Kim Roberts; California: Martha McGrath; Colorado: Sherry Puls; Connecticut: Elaine Kotler; Delaware: Teresa Townsend; Florida: Ronna Jackson; Georgia: Margaret Jones; Hawaii: Erin Simonds; Illinois: JoAnn Brown; Indiana: Barbara Sandage; Iowa: Janet "Sam" Thomas; Kansas: Sharon Glenn; Kentucky: JoAnn Harvey; Louisiana: Ruth Powell; Maine: Carol Roach; Maryland: Deborah McMeans; Massachusetts: Marion Woodcock; Michigan: Sandra Nuechterlein; Minnesota: Edna Thayer; Missouri: Carleen Jung; Montana: Ila Prellwitz; Nebraska: Phyllis Schoenholz; Nevada: Donna Highland; New Hampshire: Noleen Picone; New Jersey: CeliAnn Santiago; New Mexico: Dorothy Pineda; New York: Sharon Jenkins; North Carolina: Suzanne Smith; North Dakota: Ruth Johnson; Ohio: Loretta Sue Adams; Oklahoma: Cynthia Bullock; Oregon: Lois Taylor; Pennsylvania: Karen Kalie; Puerto Rico: Luz Burgos; Rhode Island: Nicole Le Fort; South Carolina: Sylvia Corley-Drennan; South Dakota: Julie Malcolm; Tennessee: Elain Cronister; Texas: Donna Patterson; Utah: Alicia Summers; Vermont: Toni Lobdell; Virginia: Robin W. Lee; Washington: Bev Beierman; Wisconsin: Theodore (Ted) Kubiak; and Wyoming: Sherry Bushman.
(Note: Not all American Legion Auxiliary departments submitted names for this award.)
ALA Unit Member of the Year award criteria and selection process
Nominees must be an adult American Legion Auxiliary unit member not in an elected or appointed leadership role higher than unit president.
A narrative of 1,000 words or less describing the nominee's accomplishments and activities must be submitted by a unit to its department's Leadership Committee chairman.
Each department selects one Unit Member of the Year from its submitted candidates.
The selection of the winner is at the discretion of the department Leadership chairman.
Recognition of the winners occurs at the American Legion Auxiliary's National Convention. The application deadline is June 1 of each calendar year.
To download the award application, visit
www.ALAforVeterans.org/Unit-Member-of-the-Year
.
By Sara Fowler, Staff Writer