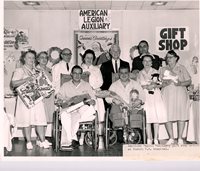 Christmas Gift Shops, historically hosted at VA Medical centers and Veterans Homes, allow veterans in these facilities to send gifts to their loved ones at no cost to them. A cherished tradition since 1928, American Legion Auxiliary volunteers collect donations or purchase items a veteran gift.
While Christmas Gift Shops may look different at each location, the experiences for volunteer and veteran are very similar. Imagine entering a common area beautifully arrayed in Christmas décor—blinking lights on a Christmas tree, holly, wreaths, bows, poinsettias, and a nativity scene. Brand new gifts for all ages adorn tables that line the room. A wrapping station takes center stage with beautiful boxes, paper, gift tags, ribbons and bows.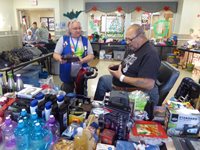 No one is left out. Volunteers make sure that veterans confined to their rooms are able to participate and offer to shop for them. Those who may not see their loved ones over the holidays can ship their gifts at no cost to them. Holiday cheer, smiles, and laughter fill the facility.
The American Legion Auxiliary and Veterans Affairs & Rehabilitation Committee have established programs that continue to support servicemembers, veterans, and their families throughout the year. These programs continually need support from VA Voluntary Service (VAVS) and Service to Veterans volunteers. VAVS, a department within the VA, coordinates all volunteer services. If you have never volunteered, consider contacting your local American Legion Auxiliary unit or the Chief of Volunteer Services at your local VA.