Grace Williamson, 19, a freshman at Colorado Christian University, has an interesting background, to say the least. She is one of 10 siblings (the third oldest) and the daughter of a now-retired 20-year U.S. Air Force pilot. Because of her father's military service, Williamson and her siblings have been all over the world, moving to a new place every few years. Leaving your old life behind to start a new one might sound stressful, but Williamson points out that having nine other siblings to share the experience with can help with the transition.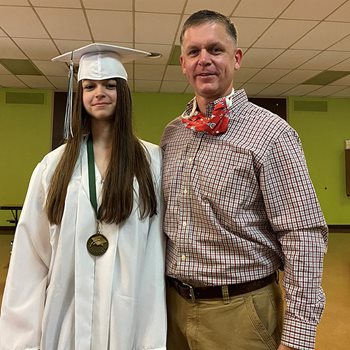 "I like it. You never get bored or lonely with it. It definitely keeps things really interesting. Car trips are fun," she said.

Being an older sibling can be a full-time job, but Williamson still finds the time to pursue her personal hobbies and career goals. With a passion for music and sound, Williamson plays the guitar and ukulele, and even volunteers with local churches to help run their worship services and musical productions.

This passion has become so strong that Williamson will be studying music production and audio engineering in college to make it her career. Whether she is on the radio, running a podcast, or working in her local church, the possibilities of what Williamson might do with her education are truly endless.

Receiving the American Legion Auxiliary Children of Warriors National Presidents' Scholarship has only helped to make Williamson's dream become more of a reality. Of course, it helps financially and prevents Williamson from having to take on a second job, but it also instilled her with some confidence and validation, which she was able to acquire as she received the proper letters of recommendation needed to apply for the scholarship.

"I shouldn't overestimate myself, but I can't underestimate myself either," Williamson said. "I went to some of the adults and elders in the community. Just talking to them and having them help me and uplift me and be willing to write letters for me, that was encouraging for me and I think that was a really rewarding part of the experience."

Receiving the national ALA scholarship not only meant a great deal to Williamson, but to her family as well. Being a military family has its own set of amazing experiences, but it also comes with sacrifice. Williamson points out that it makes these types of scholarships mean even more.

"[My parents] were really proud of me," she said. "I think it's nice to have things like this for families like us. It's not something we take for granted."

Now, Williamson can go on to study music production and audio engineering with confidence in herself and her abilities, a proud military family behind her, and the knowledge that she can succeed in anything she sets out to do.

You can help children of veterans like Grace Williamson pursue a higher education by donating to ALA scholarships at www.ALAforVeterans.org/Donate. Just as Williamson said, it's not something these students take for granted!