This year, we are publishing several print and digital articles about caregivers, each with different backgrounds and the challenges they face. This is one of those stories.


RANDI JOHNSON HANSON
Department of Wisconsin, Unit 59
53 years old
Cares for mother, Kristine, and father, Thomas


You are a dual caregiver between your job and your parents. Let's start with your job — can you describe what you do?
I am an occupational therapist. I'm teaching people daily activities of living and instrumental activities. Activities of living means what you need to do to take care of yourself — getting dressed, using the toilet, the shower, and making sure you can get in and out of your bed. Instrumental activities are higher-level things like cooking, cleaning, laundry, and driving. The other part that is cool about occupational therapy is we minor in psychology. My practice now is in a nursing home.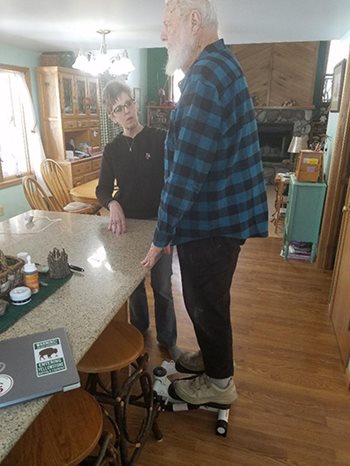 Can you share the story of how you became a caregiver for your parents?
My parents are Thomas and Kristine Johnson, both 81. They still live on their own. They've been doing fine. The last year, we've had some things happen. We knew Dad had a heart and kidney problem. I get a call that he's passed out, Mom is taking him to the ER, and we've got to have transfusions. I can't up and leave — they live two hours north of me. I was managing via phone. We went through two rounds of that.

When Dad came home, part of caregiving was being an OT for dad. Took every ounce of strength to get him into the house because there are steps. A contractor is putting double railings on every staircase. In the meantime, my mother is suffering from glaucoma. She is now legally blind. I'm helping out with things at home — adapting things for her, and finding her large-print things.

Was there a point in all of this when you realized you are embodying the term "caregiver"?
When it got to the point where Mom's vision was failing and Dad's heart and liver simultaneously, that's when it hit me — about 18 months ago. Mom is one of those lucky ladies who got [glaucoma] as a side effect from one of those bladder medicines. I'm doing this for my parents. I want them to stay in their home. They want this more than anything. If I didn't do this, someone else would have to. I would have to pay a caregiver to come in. Why would I do that when I'm here and able-bodied and can do it? It's saving everyone money.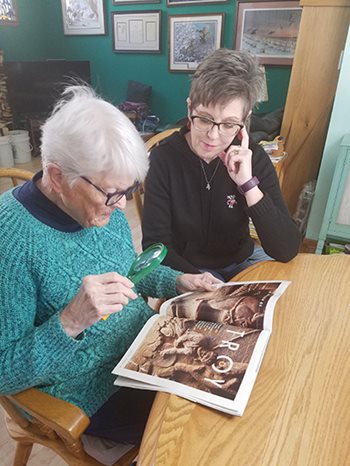 The other part I look at too is I have chosen to do this. I have a younger sister who is three years younger than me. She's distanced herself from it, and I understand; that is a coping mechanism for her. She shows up more often, but not with the caregiving.

I just feel an obligation because of what my parents helped me with as a kid. I'm talking when I was the rebel-without-a-clue teenager and they had every right to kick me out of the house because I was a jerk, but they didn't. It's my way to give back.

As a caregiver, do you take respite time for yourself?
One of my big things for myself is I always exercise, whether I'm out for a run or hike or I have a bike trainer in my living room. It keeps me sane. I have my own therapist. He and I talk every six to eight weeks because I need to. I have an excellent sounding board with him. If I am short-tempered, there is something going on. I know I need a break. Sometimes, if my boyfriend knows I've had a hard day, he will take over duties with stuff. I have a network of friends too.

I'm one of the people who are front and center of mental health issues. And being a caregiver, I watch myself like a hawk. I'm very open and honest with my patients. I have high-functioning anxiety and depression. There are days when I am walking the ledge and I might come home and just collapse. Nothing else is getting done.

I openly share that because I want my patients to understand: It's not just them. It makes me angry that there is still a stigma behind that. More people than the world is aware of have some kind of mental illness. I've embraced it. It's part of who I am. And some days are better than others. I have to be my own caregiver too. It's OK to have an off day or a bad day. It's not going to go away.

Do you have any general advice for those who may become caregivers someday?
Number one, remember it's a blessing. There is a reason you were meant to do this. And you were picked to do this. This wasn't something that was thrust upon you — I truly believe it's a calling. You were meant to give back somehow. This is a reward for you.

Two, take care of yourself. If you aren't doing OK, you can't help other people either. However you build that in, make sure you are taking care of you too. Have as much fun as you can with it. Just because it's caregiving, doesn't mean it has to be tough and always hard. You are a lot stronger than you think you are. You can handle pretty much anything shoved at you. It's worth it in the long run.

Is there anything else you want to say about caregiving?
I thank my patients for their time. I thank my parents for their time because I'm learning lessons left and right. It's a privilege and a blessing. Remember to say "Thank you." Someone allowed you, chose you, to do one of the most sacred things — caring and giving back for somebody. That's not for the faint of heart. There's a reason they chose you.


By Sara Fowler, Staff Writer