ALA Junior member Rebeka Avila-Hernandez, California Unit 299, has multiple Junior Activities patches and counting since she began participating in the ALA Patch Program last year.

"I earned so many patches quickly because I was able to fulfill some of the requirements through homeschooling, Chino Valley Young Marines as a Young Marine private first class, as a competitor in Jiujitsu, and as an active member in the Auxiliary," she said.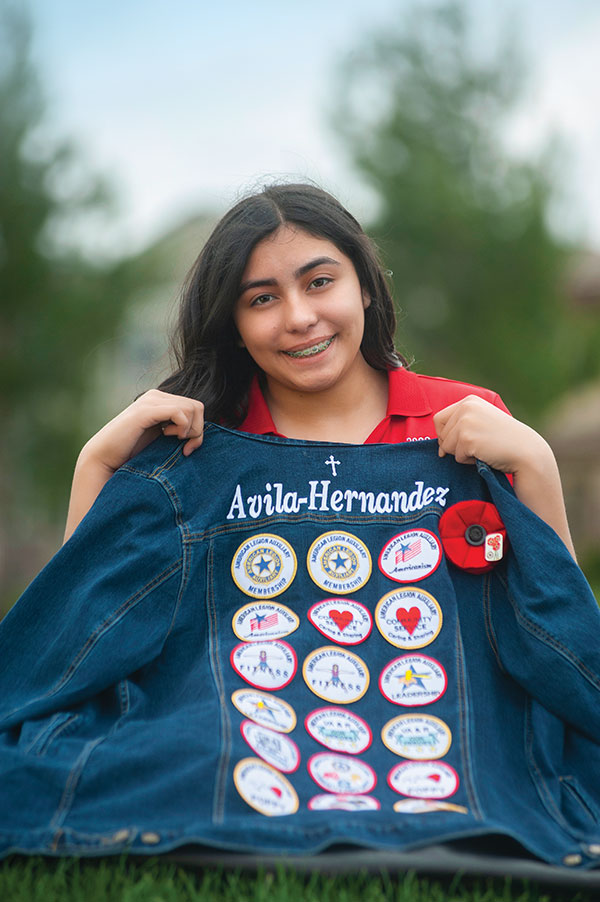 Her interest in the Patch Program began as a desire to be an example to other Junior members, as well as it being fun.
"I like the Patch Program because it teaches me life skills and helps me learn more about the Auxiliary," she said.
With so many patches, Hernandez started wearing them on a jean jacket, which has often sparked conversations about Juniors and the ALA. She has even recruited more than 10 new American Legion Family members from these conversations.
"I wear my jacket because it gives me a sense of accomplishment," she said. "I want to inspire other Juniors to earn as many patches as I have. Wearing the jacket gives me opportunities to show them my accomplishments and to tell them more about the Auxiliary and hopefully get more members."
For other Juniors who haven't gotten involved in the Patch Program yet, Avila-Hernandez offers advice from her own experiences.
"Working on patches allows you to learn to help and bless people," she said. "It might take time from your day, but it could help you in the future with your college applications and scholarships. It could also be placed on your résumé."
As she continues to earn patches, Avila-Hernandez, like other Juniors involved in this program, understands the significance of being part of it.
"The Patch Program is important because the patches encourage Juniors to participate in activities and events," she said. "It has taught me to think of others and to know more about those who have sacrificed so much for our country. Even though I am just a kid, I have learned that I can do things to change the world for the greater good. Other kids can do it too."