When Junior member Kristina Seward learned she was an ALA Good Deed Award recipient, she was surprised and happy.

"It was a very special moment for me, for my unit, and for my family," she said. "Honestly, I did not believe this wonderful award was being bestowed onto me."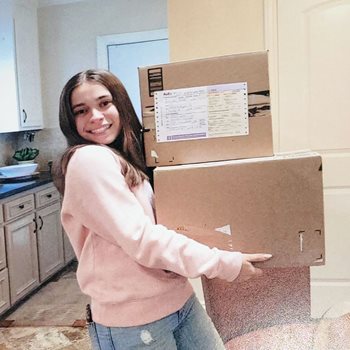 The Auxiliary's Good Deed Award is given to any youth who donates time and/or money for a worthy cause.

"The Good Deed Award has helped me recognize things about myself and my community and inspires me to continue and do more," she said.

Seward has been involved in quite a few projects that also happen to meet the criteria for the award — restoring feminine hygiene products in high school restrooms, Operation Gratitude Program, and Operation Gratitude Jot-A-Note.

Her high school had no feminine hygiene products available in the restrooms. With help from a few friends, she created a petition to raise awareness and ask for support. Now, these products are available in all women's restrooms. Because of this, Seward also started the first Women's Empowerment Club at her school to give young women the courage and confidence to talk about and raise awareness of the difficulties young women have overcome and still face today.

Another project was Operation Gratitude Beanie Baby. In four months, Seward collected over 2,000 Beanie Babies to put into care packages for those deployed overseas.

"I spoke first [to the Auxiliary] about the purpose of the Beanie Baby Project as an opportunity to show gratitude to deployed, local military, and veterans with a plush toy and how much it meant to have one included in their care packages," Seward said.

For her Operation Gratitude Jot-A-Note project, she has collected over 500 notes from all seven units within District 20 in California.

"It was challenging for everyone," Seward said. "But what made our goal of 500-plus Jot-A-Notes was the attention and support of the six other units in our district. I made a box for each unit with all the supplies needed and a poster for each unit."

Being involved in quite a few projects and activities, Seward offers advice for other teens who want to get involved in their communities.

"Do it without thinking or looking for recognition or an award," she said. "The opportunity to lead a project you like and know that your project helps your community, a person, or another group gives you good feelings and meaning. Make it fun and make it enjoyable for yourself and others. Ask for help or get involved with others who share the same objectives about your project."

Seward has been an ALA Junior member for three years and is part of ALA California Unit 377. She is eligible for membership through her grandfather, U.S. Air Force veteran John Seward.