Making our communities better places to live is a core value put into action by American Legion Auxiliary members every day. Committed to making a difference in their city, The American Legion Family of John J. Morris Post, Unit, and Squadron 62 in Peoria, Ariz., partnered with a nonprofit organization called Borderlands' Produce Rescue to provide their community with easy access to fresh and affordable fruits and vegetables.

The organization has a community outreach initiative program — Borderlands' Produce On Wheels With-Out Waste (P.O.W.W.O.W.) — that rescues, recycles, and redistributes millions of pounds of produce every season. They save fruits and vegetables that grocery stores have leftover that would typically go to landfills, then redistribute the produce to communities throughout Arizona. For a $15 donation, event supporters can take home up to 70 pounds of produce.

"Grocery prices have gone up so tremendously — it's an affordability issue for some people," said Arizona Auxiliary Unit 62 President Kathy Amery. "And where can you go and get 70 pounds of produce for a $15 donation?"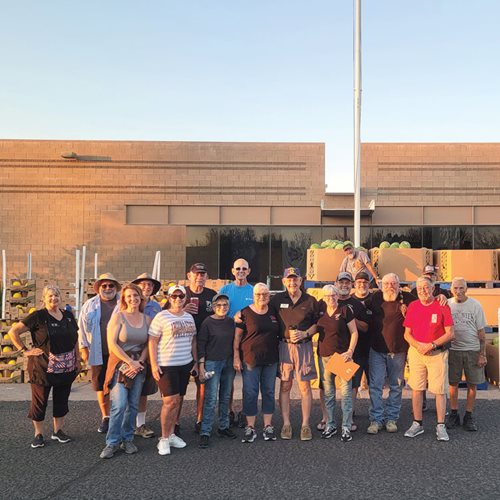 The American Legion Family worked with Borderlands' Produce Rescue to organize and host multiple produce drive-thru events at their post home in Peoria. Open to the public, these events operated as a convenient drive-thru experience — attendees never had to get out of their cars to receive the produce. Community members simply just had to wait in a car line for their turn, hand their monetary contribution to Amery, pop their trunk open, a team of volunteers would load their car with rescued fruits and vegetables, and off they'd go.

"It's an amazing process," said Amery. "It's definitely a Legion Family project — we thought this was a way we could really help our community."

Due to the high heat temperatures in southern Arizona, Legion Family members gathered at 3:30 a.m. to set up for the drive-thru events. A Borderlands' truck would drop off loads of pallets filled with fruits and vegetables to the post home. After unloading the pallets, Post 62 members sorted the produce into boxes and placed them on tables near the drive-thru lineup to easily distribute into vehicles. With all hands on deck, the post passed out produce from 6 a.m. until around 9 a.m.

"This is something we are all very, very passionate about and I'm just so proud of our post Family," said Amery. "It is a joint effort of Auxiliary members, Legionnaires, Sons, Riders, and community members, and I'm just proud that they all come out together to support this."

The American Legion Family of Post/Unit 62 have completed three drive-thru events so far, with plans to continue doing the project in the future. Between the three events, the Legion Family had help from over 100 volunteers contributing their time and effort. They gave out 975 boxes of fruits and vegetables, which totaled 117,500 pounds of produce redistributed back into the community.

"Everybody is just so willing to help and then at the end of it, we sit down, and we are tired, but we feel so good that we've done something that truly supports our community," said Amery.