When Susan Johnson, ALA Unit 427, came across an Adopt-a-Highway sign while driving through Alamance County, N.C., she realized it represented an ideal opportunity to showcase her American Legion post home while supporting clean-up efforts in her community.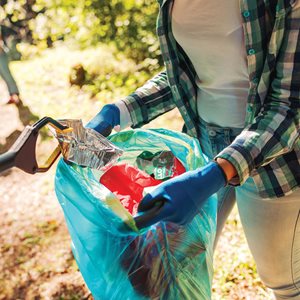 As with other Adopt-a-Highway programs throughout the United States, a practice that dates to the 1980s, ALA Unit 427 was prepared to regularly keep a one-mile section of a road free of litter. In exchange, local government officials would erect a sign that prominently displayed The American Legion Family brand.

Johnson also realized the importance of trash collection efforts in the area. According to a Keep America Beautiful report, nearly 50 billion pieces of trash are left on U.S. roadways and waterways every year. Yet, highway clean-up efforts have resulted in a 54 percent decrease in litter on roads since 2009.

She was eager to get started with her project in 2021. However, Johnson found that getting the process underway would take a lot of persistence.

"I thought it was a wonderful idea," Johnson recalled. "But it took me over a year. After I emailed all of my paperwork, nobody ever got in touch with me."

Johnson admits she was frustrated at times, but she didn't give up. She continued to reach out, and, eventually, called an official in nearby Raleigh who helped her get the ball rolling. The next time she called local officials, the woman on the other end of the line responded, "Let's do it now."

Several weeks later, Johnson received the designated section of Keck Road in Haw River, N.C., to clean. She organized a clean-up event, which was attended by numerous Legionnaires and Auxiliary members, neighborhood volunteers, a sheriff, mayor, and a senator. They donned orange safety vests and got to work by cleaning up trash that had been left along the road.

"I just started calling people, and they just showed up to help clean," Johnson said. "We are a small post, but we have a lot of impact. It makes me very proud. We're trying to improve our community by keeping it clean."

Any time the volunteers clean up the stretch of road, they place the bags of trash in a designated area. They then call county officials to pick up the trash bags, informing them of their specific site along the road.

"Everybody loves it," Johnson said. "We just wanted to do something positive for our neighborhood."

Johnson also said the Adopt-a-Highway project has had a ripple effect in the community. Nearby neighbors have been making more of an effort to keep their roads clean, she said.

"People who are not even members will come up to us and talk about how they saw the sign, and how they've noticed that neighbors in the area are trying to keep their streets a little cleaner," Johnson said. "I think it's changed the neighborhood."

Her advice to other ALA units? "Just keep calling. It might take a while, but never give up."


Ready to start an Adopt-a-Highway project? Follow these steps:
Contact your local government about Adopt-a-Highway opportunities.
Fill out the required paperwork.
Be persistent but polite in follow-up messages.
Organize an inaugural clean-up event.
Invite members, neighborhood volunteers, and community leaders to the event.
Check the area regularly for trash.
Schedule clean-up events as needed to keep the road clean.
Follow your local program instructions for ensuring bags are collected.
By Shari Finnell