National Festival scheduled for April

The National Veterans Creative Arts Festival is all about the therapeutic healing power of the arts. The event brings together creative veterans throughout the country who made it to the national level after competing at local U.S. Department of Veterans Affairs facilities.

Changes to competition, Festival dates
The NVCAF showcases the role therapeutic arts has in rehabilitation of our nation's veterans. The competition was hosted at the local level from January to March and the national Festival in October for many years.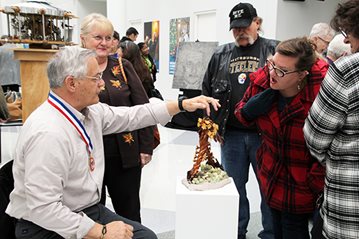 Moving forward, the local competition phase of the program will take place June to September each year. The national judging will occur in October and November, with results of the competition announced in December. The national Festival event will follow in the springtime.
For this Festival year, the 2021 gold medal winning veterans are invited to the 41st NVCAF in St. Petersburg, Fla., in April.
Extending the competition phase will allow more veterans the opportunity to participate in a local creative arts competition. It will also offer increased flexibility for local VA facilities to best meet the needs of their community and optimize the veteran experience. The change will allow veterans to participate through showcases of artwork, writing, and performances.
How the ALA support these veterans
In 2004, a memorandum of understanding between the VA and American Legion Auxiliary was signed, with the Auxiliary officially becoming the co-presenter of NVCAF — significantly increasing awareness of the program among ALA members and throughout communities across the country.
With local competitions held nationwide, the ALA currently plays a large role in helping those succeed. Members have been big supporters of local showcases through volunteering — serving refreshments during the shows, helping with the setup, judging, escorting veterans from the medical center to and from the events, and through monetary donations.
As co-presenters, and with members involved at both the local and national levels, these events truly demonstrate what the ALA is — a community of volunteers serving veterans, military, and their families.
You can get involved at the local level
If your VA facility does not currently host a local Veterans Creative Arts Festival, contact a VA staff member who instructs creative arts and recreational therapy (such as creative arts therapists, recreational and occupational therapists, craft care specialists, and other health care professionals who use the arts in treatment). An additional staff member who could be approached with your ideas is the voluntary services coordinator. Each veteran who participates will need to have a designated VA staff member contact.
For more detailed information on getting involved, visit
www.ALAforVeterans.org
.