The American Legion Auxiliary's prestigious Public Spirit Award recognizes outstanding individuals and organizations for contributions that positively impact communities through service to our military, veterans, and their families. Every year, we celebrate those who make a difference through a creative body of work or even a single generous act. Previous recipients have included U.S. presidents and government officials, as well as regular citizens who saw a need and acted.

Kathy Daudistel, 2021-2022 ALA national president, chose two nonprofit organizations and a caregiver to be the recipients of this year's Public Spirit Award.

DTOM Ranch
Located in South Dakota, the DTOM Ranch provides equine therapy for veterans, among other services.

"I immediately connected with DTOM Ranch because of their equine therapy program for veterans," Daudistel said. "When I was visiting the ranch, I had the opportunity to try the therapy, and I was completely floored. There are no words that come close to capturing that experience. I can't even explain what happened that day. I knew then and there that DTOM Ranch would be a PSA winner."

The mission of the ranch is to provide a safe place for healing and recovery for military servicemembers, veterans, and their families while encouraging, engaging, and positively impacting their lives through hope, self-conviction, and family activities, all while helping them learn to live again with purpose.

Services provided by the ranch include equine-assisted max rhythmic motion sequencing (MRMS) therapy, MRMS therapy program, housing assistance, emergency aid assistance, and disability services/equipment. According to the website, the MRMS program is an innovative, scientific-based program that focuses on healing the messenger neurons using traveling brain wave sequencing, rhythm, motion, time, location, speed, distance, and balancing.
The horses are trained to do cardiac pace wave rhythms, motion algorithms, and they change brain waves in people with Parkinson's, dementia, autism, and Alzheimer's. We've been able to stop PTSD, night terrors in two weeks without medication. We've been able to reverse Parkinson's.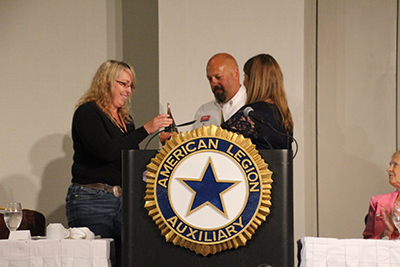 Chris Reder, CEO and founder, and Dr. Tracy Diefenbach, founder, researcher, and primary clinician, accepted the award on behalf of the ranch.

"Thank you so much for having us," Reder said. "It's deeply humbling to be here today. Thank you so much."

Diefenbach was also thankful for the recognition for the ranch.

"Chris and I have spent hours on the phone — sometimes 12 hours at a time — to keep them from taking their own lives," she said. "And if that's what it takes, that's what we do — when it's most inconvenient to us. The Auxiliary is close to our hearts. And here's why: When we veterans come home from combat, we took the oath to serve our country. To defend her from domestic invaders, from foreign invaders. But when we come home, they don't teach us to come home because they didn't expect us to come home. So, what we do, is we have to teach our veterans that our mission doesn't stop when we leave the military. So now what we have to do is we have to go from protecting our country overseas to serving and protecting our communities at home. If it wasn't for the Auxiliary, and our Legion and our VFW, we need to work harder at coming together and teaching our veterans and their families that it's OK — your mission is now to protect your communities and serve your communities. It's selfless service. We can do this together as a team."

Eagle's Healing Nest
Just one state over in Minnesota is Eagle's Healing Nest. The nonprofit is committed to meeting the needs of veterans, servicemembers, and their families who suffer from the invisible wounds of war.

The "eagle" represents the past, present, and future military strength, independence, pride, and honor. The "nest" is full of meaning such as home, family, brotherhood, safety, and security. The "hands" cradling the nest represent the many who will wrap their support and give services to the veterans and military members to help reintegrate them back to their families and into their communities.

According to the nonprofit's website, many of our military are struggling and need programs with a caring hand to assist them. Eagle's Healing Nest helps foster purpose and direction. Our servicemembers' families — who also serve our country — deserve the resources, support, and best treatment available.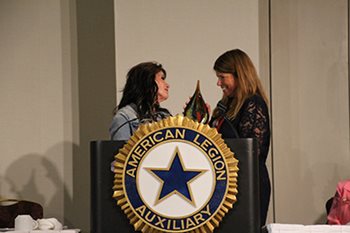 Melony Butler, facility chair/director, accepted the award on behalf of Eagle's Healing Nest.

"Really, this award goes to our veterans, our military members, their families, and our communities — not just our communities across Minnesota, but across the country," she said. "The vision was that if we give the veterans a place that they could create their own place to heal with honor. And going into our 10th year, they've done exactly that. I am more than honored to accept this award on all of their behalf. Thank you."

Janine DeGusto Dougherty
Tying into Daudistel's focus for the 2021-2022 ALA administrative year, Janine DeGusto Dougherty was chosen as a Public Spirit Award recipient. She takes care of her 96-year-old mother, Pauline, and has been her caregiver since 2007. DeGusto Dougherty is also general caregiver to her U.S. Navy veteran husband, Kevin.

Daudistel first met DeGusto Dougherty at the National Veterans Creative Arts Festival when she was there with Kevin. Her personality and story captured Daudistel immediately and they've both looked forward to seeing each other at the Festival each year since.

Daudistel surprised DeGusto Dougherty in Massachusetts to present her the award since DeGusto Dougherty couldn't be at National Convention in person.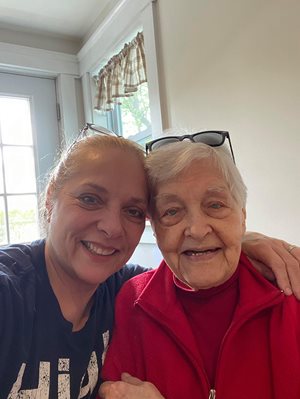 "She was surprised, so honored, and super-shocked," Daudistel said when she told Janine she was giving her a Public Spirit Award. "We met at her favorite restaurant and she turned around after she ordered and she had to triple-look at me. It was amazing. It was definitely one of the highlights of my year."

Janine said it was an honor to be a recipient.

"I was truly overwhelmed," DeGusto Dougherty said. "Being recognized with this award supports my motivation and desire to continue to do better for my mom. As a caregiver, I am always questioning what I do and how I do things for Mom. I am doing the right thing, because I am doing for her, every day, and I, in all honesty, do not know where she would be without me. I have read about past Public Spirit Award recipients and their selfless works. What a remarkable group of people! I am genuinely very humbled to be added to this esteemed list and thank Kathy and everyone involved who made this possible."

Please congratulate this year's Public Spirit Award winners! To see a list of previous award recipients, visit www.ALAforVeterans.org/Public-Spirit-Award.

By Sara Fowler, Staff Writer