An ALA Stories blog
The ALA Stories blog series showcases positive American Legion Auxiliary experiences, thoughts, and ideas of ALA members. We hope these blog posts will inspire and encourage all who read them.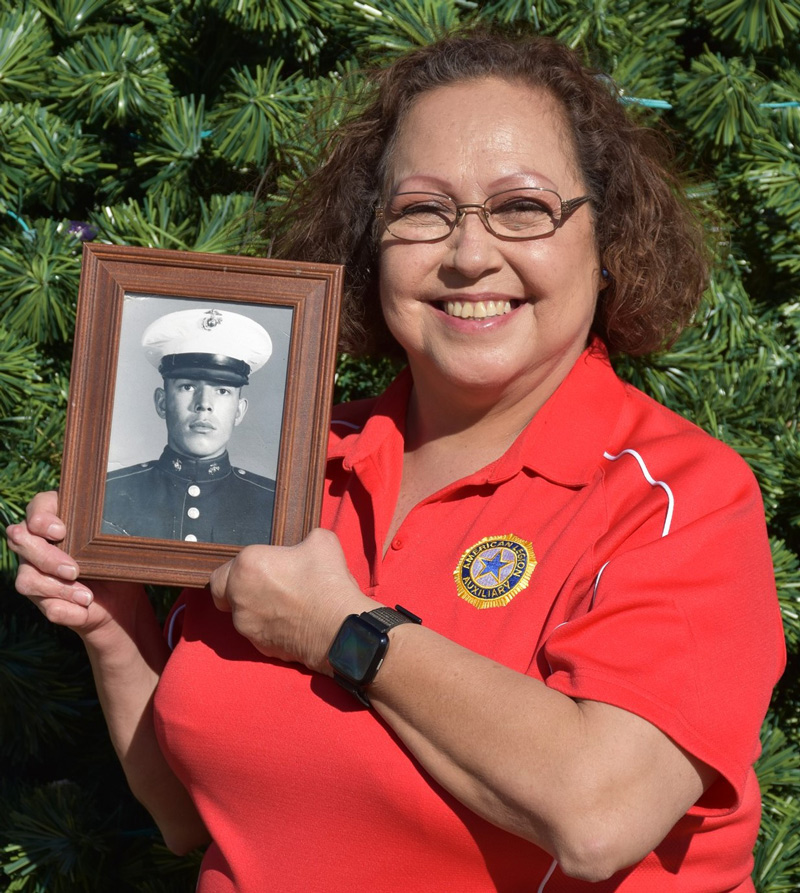 ALA member Irene Miramontes of Unit 122 in Anthony, Texas, holds a photo of her uncle, Marine Cpl. Enrique Miramontes, who was killed in action while serving in Vietnam in 1969.
A dedication to selflessly serving veterans, military, and their families. Resiliency in the wake of heartache following the death of her son U.S. Marine Cpl. Enrique Miramontes during the Vietnam War. That's what Irene Miramontes saw in her grandmother, Amada Jacquez, a longtime American Legion Auxiliary member.
"I decided I was going to follow in my grandmother's footsteps of doing for others, specifically our veterans. I'm going to go see if I can be the way she was. She was active. She helped The American Legion. She helped all the veterans," said Miramontes, president of ALA Unit 122 in Anthony, Texas. She joined the Auxiliary in January 2020 after a few months of volunteering with Unit 122.
Of all the events and activities she participates in as part of her unit, one of the simplest and most valuable ways she has been able to support local veterans is to build personal connections with them and listen when they want to share.
"We talk, and I would mainly let them talk to me. It seemed like they wanted to share something, to get some things off their chests. And I listened. They had my full attention. Some of the vets are having flashbacks. Some have PTSD. That's hard on the veteran and the entire family. I respect the vets and their families, and all of their sacrifices and what they went through," Miramontes explained.
With several relatives who served in the military — including her uncle, who made the ultimate sacrifice, Miramontes appreciates the positive connections she has developed with many local veterans.
She also appreciates how well she and her fellow Unit 122 members get along. It harkens back to the days when she, as a child, visited the post home with her grandmother.
"I would pass by the kitchen and see all the ALA members working together, laughing together, and having a good time. I was in middle school at that time," Miramontes said.
Now, she is experiencing that closeness among her fellow unit members.
"Our unit is a really good group. There are 10 of us. We just get along so well. Everyone shows up and is ready to do what needs to be done for events and activities. At our unit, we get input from everybody. We learn from one another. Afterward, we sit, and we talk and laugh together. If someone new comes in, we welcome them with open arms. We say, 'Welcome to our family'," Miramontes said.
"We also spend time with the Legionnaires, the Sons, and the Riders. We help each other with our fundraisers and activities, like delivering food to our veterans who are homebound. And we have a good time doing it. Everybody's background is different. But we are alike when it comes to helping our veterans and military families," she added.
More about Irene Miramontes' uncle, fallen hero U.S. Marine Cpl. Enrique Miramontes
Marine Cpl. Enrique Miramontes, of Anthony, Texas, was killed in action June 18, 1969, while serving in Vietnam. He was 19 years old at the time of his death. In memory of Miramontes and his ultimate sacrifice for our nation, a park in his hometown bears his name: Enrique Miramontes Memorial Park. Efforts are underway to add "Cpl." to the name.