Sara Fowler has been a full-time communications specialist and writer for the American Legion Auxiliary National Headquarters for over four years. Her interest in veterans, military, and their families peaked in college while she was studying journalism. During this time, Sara was able to participate in multiple internships with the military and write about the training that Reserve Officers' Training Corps (ROTC) recruits were going through. This continued as she went on to attain her master's degree, and her final project was about the struggles veterans experience when returning home from combat. These interests eventually brought Sara to ALA National Headquarters after she graduated, and it has been a perfect fit ever since.

Even though Sara has been the voice of many ALA members through writing projects during her time here, she has continued to support our brave men and women in any way she can. She eventually joined the Heroes Giving Hope — a group of monthly donors changing the lives of veterans, military, and their families one monthly donation at a time — by starting monthly gifts to the American Legion Auxiliary Foundation's Mission Endowment Fund and National Veterans Creative Arts Festival Fund.

"Because I am not eligible for ALA membership, I felt like this was one of the ways I could give back, beyond being a staff member. I truly believe in the mission of what we do, and I know that every dollar I give is helping veterans, military, and their families," she said.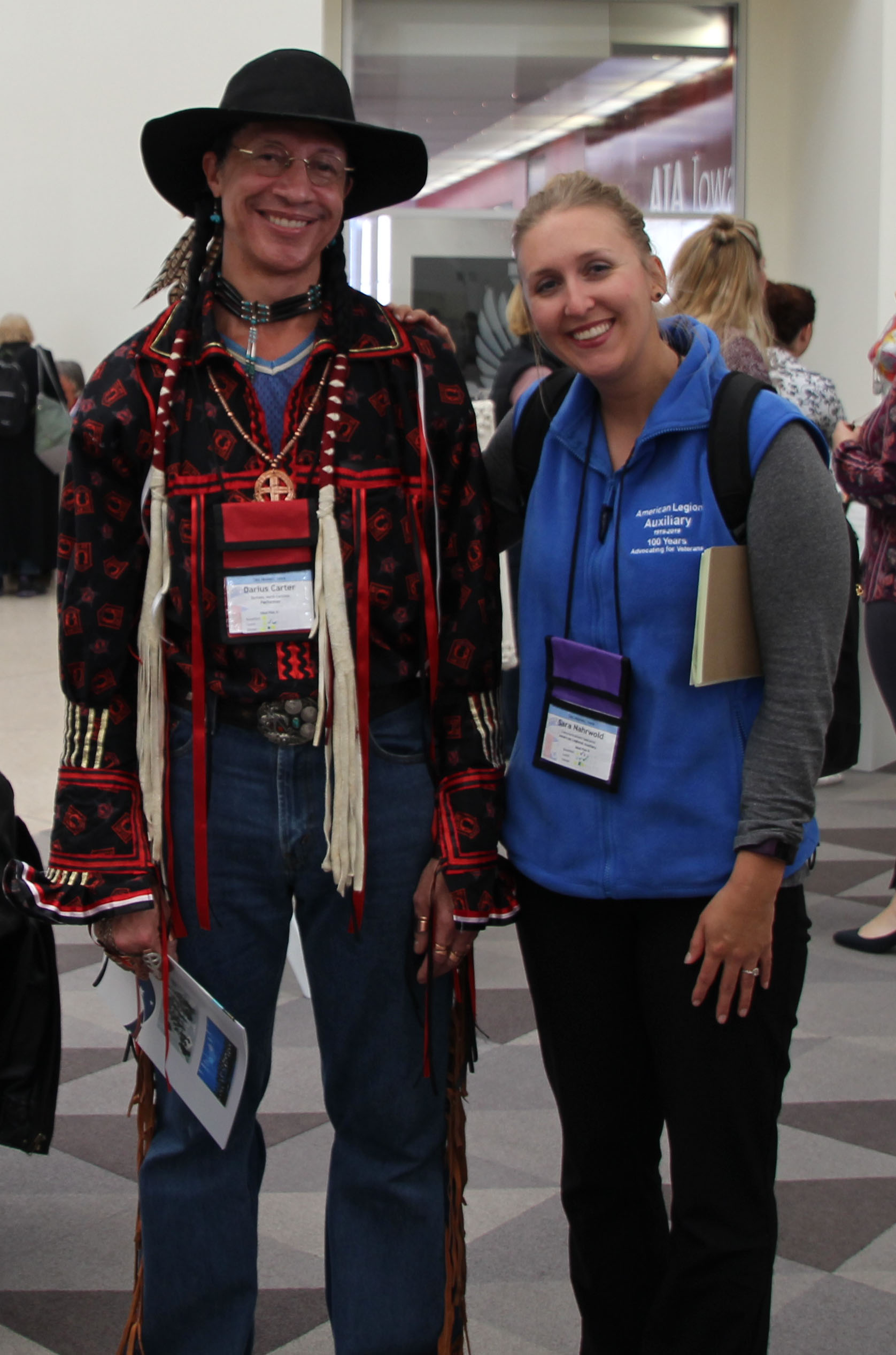 Darius Carter (left), veteran and performer at 2018 NVCAF, and Sara Fowler, ALA National Headquarters staff member and ALA Foundation donor.
"I never knew anything like this existed for veterans," she said. "I felt just very inspired to give back because I saw what an incredible difference it made for our veterans, and I really wanted to be a part of that."
After starting her monthly gift to the NVCAF, Sara also began to give monthly to the Mission Endowment Fund. The ALA and ALA Foundation have many funds meant to address the immediate needs of veterans, military, and their families, but the Mission Endowment Fund focuses on their future needs as well. This ultimately led to Sara starting her second monthly gift there.
"There are a lot of funds that deal with immediate needs of veterans, military, and their families, which are great, but I knew I wanted to focus more on the future and make sure money is available five or 10 years from now," she said. "I felt that was the best way I could give back in both of the ways I wanted. Those are the two that I have been the most passionate about."
Sara is a perfect example that when we realize the impact that the ALA and ALA Foundation have on these brave men and women, the desire to be a part of it becomes overwhelming. Whether you are a member, staff, volunteer, or non-member, there are ways for everyone to be a part in the furthering of this amazing mission, in a way that they are most passionate about. All it takes is a little inspiration.
You can join Sara Fowler and the Heroes Giving Hope by starting a monthly gift to the ALA or ALA Foundation. These monthly gifts are easy to budget, automatic, and you can specify what fund your gift goes to so that it's making the impact you are most passionate about. Click here to start your monthly gift and join Heroes Giving Hope, and have the lasting effect on veterans, military, and their families that YOU want to!