Mother. Wife. Military leader. American Legion Auxiliary member. Active church member. Community volunteer. Upper-level staffer at a major energy corporation.
Those are just some of the numerous personal and professional roles of Col. Cristina M. Moore of the North Carolina Army National Guard. She and her husband – retired Maj. Robert Moore, North Carolina Army National Guard –have two adult children and twin 7-year-old girls.
How does Moore manage it all? She points to a solid support network of family and friends.
But it's clear that her character, intelligence, upbringing, and military training figure into the equation. Moore is a driven, self-aware person who lives guided by her moral character, and never doubts herself. She is the recipient of many military awards and decorations, and a graduate of the United States Military Academy at West Point. She later earned her MBA from Grantham University.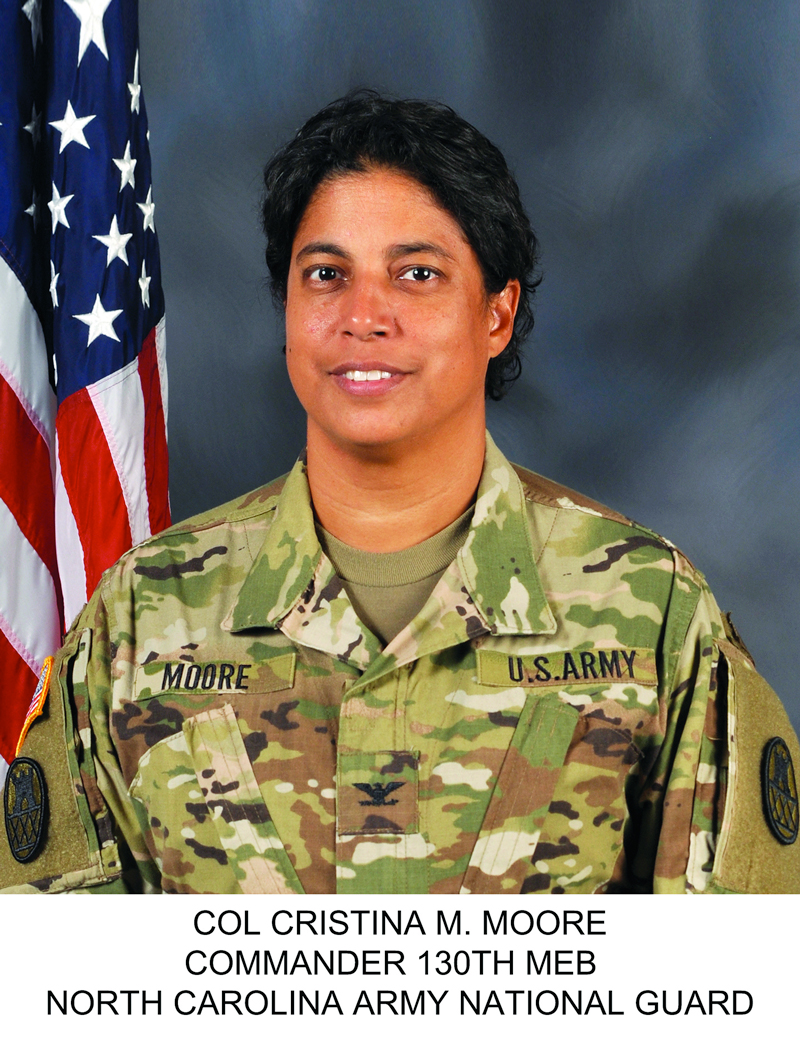 Moore shares some kernels of wisdom she has gathered from a life dedicated to the military, motherhood, family, and community.
How has your character been impacted by your military training and service?
It's reinforced my character. The encounters I've had and the challenges I've seen throughout my military career reinforced the success of sticking with your character and your moral upbringing. When I make a decision, I sleep well at night. I don't doubt myself. I don't fear repercussions. I can sleep restfully at night knowing I made those decisions based on that foundation.
Why did you join the American Legion Auxiliary?
ALA is an amazing organization I'd want to see my children grow up in – being that servant leader, developing leadership skills, and engaging with young women of like minds that come together for those purposes.
What is the biggest lesson you've learned so far from your time in the military?
Often times, the only thing that gets in the way of us achieving above and beyond what we think we can is ourselves. I've learned that we shouldn't limit ourselves based on fear of failure or fear of the unknown, and we can push beyond that.
What's the best advice you've been given, and from whom?
My mom. She always told me to be true to myself, and to not let go of my morals and my moral character.
If you could go back in time and give your younger self an inspirational message, what would you say?
Dare to dream. I go back to what my mom said, and I what I've talked about with my soldiers: I can tell you that the only limitation on the things I've wanted to do has been me, and the limitations I put on myself. Dare to dream – and dream big.
What is the biggest lesson you've learned from being a mother?
It's a lesson I've also learned from being deployed overseas: Every day and every moment is precious. I think that sometimes, we let the day-to-day and the monotony of things that happen take away from that. But it really shouldn't. Every moment we have with our children, and in our lives, is precious … and we should celebrate each of those moments.
To learn more about Col. Moore, read our column "A Wise Woman Said" in the May 2018 edition of Auxiliary magazine, coming out soon!