Kelsey Whitt's day started out like every other day. She dropped her siblings off at school and headed to Spanish class. She was looking forward to homecoming festivities and thinking of her boyfriend who had enlisted in the Army and was just beginning basic training.

But that day would be far from ordinary. It was Sept. 11, 2001.

Class was interrupted by the news that a plane had crashed into the World Trade Center. The news was shocking, but they continued with class. Then the second plane hit.

"Everyone in the room silently stared into space. We were 16 years old, but we knew that life would never be the same," said Whitt, an ALA Missouri Girls State alumna. "In that moment, I grew up. My country had been attacked. And my boyfriend was in basic training, getting ready to defend it."

Whitt was taking a government class and following the news closely about America's response.

"I wanted to learn everything I could about our democracy, and I was beginning to think I might want to work for the government or go to law school after college," she said. "I knew ALA Missouri Girls State was where I could test whether a career working for our government might be something I was interested in pursuing and was where I would meet other young women who were like me."

Whitt attended ALA Missouri Girls State in 2002.

"The week was so much more than I expected. I learned about city, county, and state government in Missouri. And I finally felt at home with a group of my peers for the first time in my life," she said. "But it was so much more than learning about government and making friends. It was truly understanding the sacrifices of our nation's veterans and active-duty personnel — sacrifices they and their families made and continue to make to ensure my safety as an American.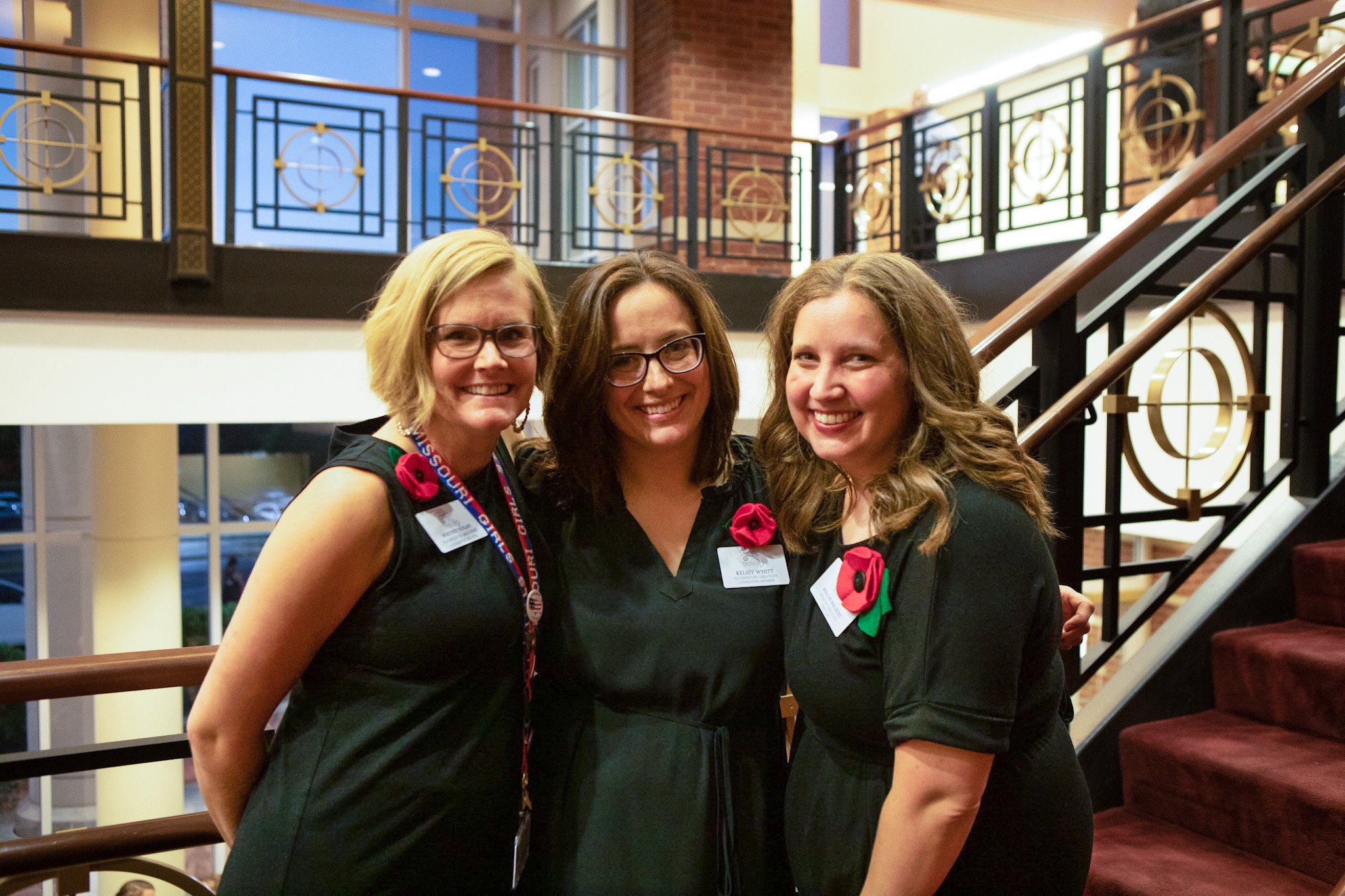 Whitney Nolan, Kelsey Whitt, and Macae Mickens serve on staff at 2022 ALA Missouri Girls State.
It's been 20 years now, but the stories the veterans told us about their time of service in defense of our nation still impact me," she continued. "I can't think about the gentleman who talked about the abuse he endured as a prisoner of war without tearing up. Or the Vietnam veteran who recalled returning home with tears in his eyes."
As Whitt was planning her future, she was also concerned for our country.
"When news broke in December that the 3rd Infantry Division — of which my boyfriend was a part — was likely to be deployed to Kuwait ahead of the invasion of Iraq, those lessons about patriotism I learned at ALA Missouri Girls State hit home," said Whitt.
Graduating from high school in May 2003 as class valedictorian, Whitt later graduated law school with a legal public service job — working for the Supreme Court of Missouri as a law clerk to the same judge who gave the inauguration speech at ALA Missouri Girls State in 2002.
Fast forward to today. That boyfriend is now her husband, and they are both public servants. He's a police officer, and she is an employee of the Missouri judiciary and serves as the education liaison for ALA Missouri Girls State.
"We're raising a 6-year-old ALA Junior member with the same lessons we learned as young adults. We regularly talk to her about the importance of public service, our democracy, and its values, patriotism, and respect for veterans," said Whitt. "The impact of ALA Missouri Girls State on my life cannot be quantified. It is going to last generations in family we've created."