Guest blog post by Trish Ward, American Legion Auxiliary National Children & Youth Chairman, 2021-2022

What makes a youth caregiver? We've seen it and we know it. A young person who selflessly gives of themselves to aid others who need extra assistance. A young person who serves meals to a neighbor who is recovering from a health crisis. A young person who offers to give comfort and support to a friend or family member with no expectation of payment.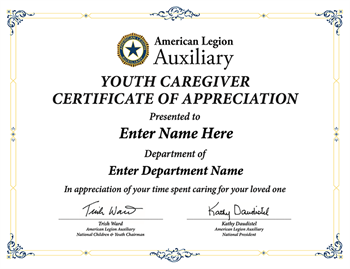 The youth of today are committed to helping, volunteering, and making a difference in the lives of others. Although many do not seek recognition, we in the American Legion Auxiliary family know that recognizing outstanding character and dedication goes a long way to ensuring and promoting a lifelong desire to serve others. In support of American Legion Auxiliary National President Kathy Daudistel's caregiver initiative, we are excited to announce a new recognition award offered through the American Legion Auxiliary's Children & Youth program. Just as the ALA Good Deed Award and ALA Youth Hero Award recognizes young people who perform good deeds and acts of heroism, the new ALA Youth Caregiver Award recognizes those who care for others without payment or expectation of reward.

It's easy for any ALA unit to participate and support the young caregivers in their community. The fillable certificate can be downloaded from the ALA national website on the Children & Youth program page. Be sure to log in to MyAuxiliary Member Portal to access the forms. Once located, select the menu tab, "Youth Caregiver Certificate," download the certificate to your computer, enter the name and department in the fillable fields, and print. It's really that simple! Be sure to take pictures of your unit recognizing these extraordinary young people and share them on our Children & Youth program Facebook group found here.

As American Legion Auxiliary members, we know our service extends to assuring our youth who volunteer in service to others deserve our thanks and recognition. Be sure to seek out the young people in your community who qualify for one of our awards and take action to recognize them today. Your time showcasing their allegiance to the values of service to others affirms your unit's commitment to the elements of the Children & Youth program.

Get on board now and show these amazing young caregivers that the American Legion Auxiliary recognizes their service to others and values their spirit and generosity to help those in need. It's easy, it's free, and it's guaranteed to leave you with a feeling of satisfaction knowing that the kids who really make a difference in our country are remembered and valued by our organization.